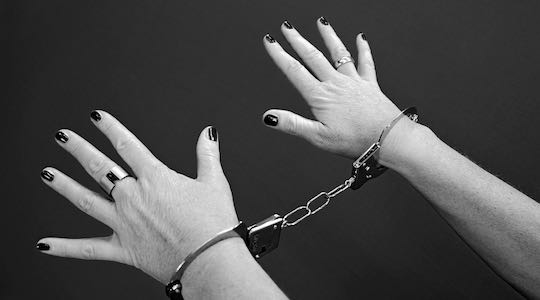 I don't believe the Bible is necessarily without error (i.e. inerrant). It doesn't specifically claim to be, and I don't think any of the arguments for inerrancy stand up to scrutiny.
But I'm not going to argue about that here.
Rather, I want to suggest ways that this doctrine, which I believe is not Biblical, is also doing great harm to christianity.
1. It achieves nothing
It seems to me that the doctrine of inerrancy achieves nothing of value, for three reasons.
We don't have the inerrant documents
It is generally said that it is the original documents were inerrant, but the fact is we don't have them now. We can't even be sure there was one original document, because it is likely that many of the books of the Bible were written over time, revised, and added to, and who can say which one was the "original"? They were then copied, often many times before the earliest copies that we have. And then translated into the language we now read.
So the Bible we read is not believed to be inerrant, and has gone through a number of processes to get to us. If we needed an inerrant Bible, we don't actually have one.
It doesn't lead to agreement
It is sadly true that those who believe the Bible is inerrant disagree, sometimes deeply, about what it teaches us – at least as much as christians who don't believe it is inerrant, and arguably more. They can argue about pre- post- and a-millennialism, Calvinism vs Arminianism, the place of the charismatic gifts, baptism and the way to do evangelism.
So what's the point of believing the Bible is inerrant if it doesn't lead us all to unity on doctrine and behaviour?
Faith is still required anyway
We cannot prove that the Bible is a revelation of God, inspired, useful for teaching, etc; it requires faith to believe it. (I believe there are good rational grounds for believing that, but they are not "proof".)
So if faith is required to believe the Bible and follow its teachings, what have we gained by proposing it is inerrant?
2. It can encourage legalism
It seems to be a psychological fact that the more certain we are about something, the more likely we are to be dogmatic and to refuse to consider alternative views.
Christians tend to be viewed as often dogmatic and having closed minds. I don't believe that is necessarily or always the case, but we can appear that way, and it can make the christian faith unattractive to non-believers, contrary to Paul's advice that our speech always be full of grace (Colossians 4:6).
Inerrancy can also lead christians into a legalism – holding to the letter of some verse even when other verses say something different. We should be allowing the Holy Spirit to guide our interpretation and application, but legalistic response are sometimes easier. I think this may be why inerrantists sometimes are the most argumentative about minor doctrines.
3. It wastes valuable time
We have been given a mission by Jesus – to live lives that are built on loving God and loving our neighbour (Matthew 22:36-40), to be seeking to make disciples of Jesus (Matthew 28:19-20), and to be caring for the poor, the hungry, the sick, the oppressed, the homeless, the strangers and those in prison (Matthew 25:31-46, Luke 4:18-21).
That's a big task! And we don't have the luxury of spending time arguing over doctrines that don't assist that mission.
It happens so often. A sceptic picks up some minor matter, for example, the location of one of Jesus' exorcisms – was it around the city of Gerasa, the territory around Gadara, or the territory of the Gergesenes? It doesn't really matter, they are all on the eastern side of the Sea of Galilee and the Jordan River. There are important matters about the person and life of Jesus that could be discussed, but instead the inerrantist is forced to provide an explanation of the apparent discrepancy that preserves inerrancy.
And sometimes, instead of arguing, preaching and reading about inerrancy, we would do better to be getting on with serving the poor and victimised.
4. It forces christians to defend the indefensible
Some parts of the Old Testament present real difficulties for christians. Some of the commands attributable to God, requiring wholesale slaughter, virtually genocide and ethnic cleansing, are extremely problematic, to say the least. It is impossible to imagine Jesus giving those commands, so if Jesus revealed God's character, then it is hard to see how a loving God could have given those commands.
Now it does seem as if the commands can be taken as an ancient form of "trash talking" – putting your opponent down to build yourself up – and archaeology seems to indicate that many of the ethic cleansing events didn't actually happen. But to a believer in inerrancy, this cannot make any difference – if it's recorded there, it must have happened.
And so christians who believe the Bible is inerrant are forced to defend the indefensible. Tragically, their defence of the character of the Bible leaves God's loving character in ruins. I've even seen noted apologist, William Lane Craig, struggle with this issue.
Much easier is to admit that some of the OT commands reflect a primitive understanding of God which Jesus came to correct, and the supposed history of the conquest of Canaan contains exaggeration or even myth. These events don't show the full character of God; we need to go to the New Testament for that.
5. It drives people away from Jesus
This may be the biggest drawback of all.
The Bible doesn't look as if it's inerrant. There are many examples of apparent errors that make little difference to the truth of the Bible and our understanding of it. Similar apparent errors in other historical works don't prevent historians from accepting the accounts. It may be that every one of these apparent errors can be explained, but some of the explanations require a lot of faith, and it is hard to believe that every last one of them is the truth. Worse than the apparent errors, of course, are the Old Testament commands for ethnic cleansing, as discussed above, which really cannot and should not be defended.
Whatever each of us may think about that, it is clear that many young christians, brought up to believe in inerrancy, find it difficult to believe that all the claimed discrepancies can be explained. Often they are away from their home and church for an extended period for the first time in their life. Their belief is at its most vulnerable, and a belief in inerrancy doesn't help – in fact it is the major problem.
They have been led to believe it is all or nothing. The Bible must be inerrant or we can have no confidence in it. (That's not the view of historians, but it is a common view in churches.) So when they are faced with apparent errors, they sometimes find they cannot continue to believe at all. If they had been brought up with the understanding (which I believe is true) that the New Testament is broadly historical so we can trust its teaching without having to believe it is inerrant (just as we trust textbooks to be reliable though not without error), then minor discrepancies need present no difficulty.
I have come across quite a few ex-christians who have travelled this path, and I believe it is all so unnecessary. Inerrancy is growing some bitter fruit!
What can we do?
If someone believes inerrancy is the truth, then they have no option but to believe it.
But if we come to see that it ….
isn't a Biblical teaching,
rests on doubtful assumptions
doesn't help us much, and
actually does some serious harm
…. the perhaps we will be able as a christian community to let go of it and just get on with believing God's truth, and following Jesus.
I'd love to think so.
Read more
Photo Credit: JobsForFelonsHub via Compfight cc