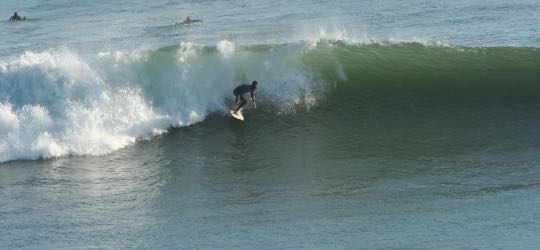 I came across a blog post today that summed up what I think has become a significant movement within christianity.
Learning from a "hippie heretic"
The post was This Nameless Movement of God on Chuck McKnight's blog Hippie Heretic, and it was based on just one premise (taken from fellow blogger Brian Zahnd):
"God is like Jesus. God has always been like Jesus. There has never been a time when God was not like Jesus. We have not always known what God is like—but now we do."
The unstated, but clear, corollary of this statement of belief is that if there is any portrayal of God that is less than the character of Jesus, then it must be a misunderstanding.
This leads Chuck to 5 statements he rejects.
1. God had to punish Jesus for our sins (penal substitutionary atonement)
Jesus' death was about more than just punishment, so penal substitutionary atonement is an incomplete (Chuck would say "wrong") understanding. I have discussed this further in Why did Jesus have to die?.
2. God will punish sinners forever in hell (eternal conscious torment)
Close study indicates this is not what Jesus taught – see Three views on hell and judgment. A more detailed study is at Hell, what does the Bible say?
3. God meticulously plans all events (theological determinism)
This is the view of some Calvinists, but instead of glorifying God as Reformed doctrine tries to do, it seems to diminish God.
4. God has ever sanctioned or participated in violence (just war theory)
Did God really command his Old Testament people to kill and annihilate? Did Jesus command us to love our enemies and turn the other cheek if attacked? How can these ideas be reconciled? Should we be pacifists and peace-makers today?
5. God's inspiration of scripture entails a text that is free from human mistakes (inerrancy)
It doesn't look like this is the case, and there are good reasons for believing it isn't true (see In what way is the Bible a special book?). And rejecting this teaching doesn't necessarily lead to anarchy and loss of faith – in fact it may increase faith.
Spirit or heresy?
Most of these are "hot button" issues, dearly loved by many christians.
But there seems to be a new wave of thinking that Chuck has summed up well in these 5 rejections.
(I think this new wave also includes the rediscovery of the Kingdom of God and of the importance of christians to be caring for the poor, the marginalised and the hurting as part of our living in the Kingdom.)
Forty years ago, I came to the conclusion that the church was entering a time of change that would prove as important as the reformation. Already we have seen charismatic gifts going mainstream, the breakdown of denominationalism, the growth of simple or house churches and an increased emphasis on social justice, community welfare and the environment.
I believe the matters Chuck has raised are a next step, and I see more and more people, good faithful christians, rejecting these teachings in favour of the picture of God given to us in Jesus.
I believe this is a new wave of the Holy Spirit, and I think it will lead to much contention, but eventually much good.
Watch and see.
And join in!
Photo: MorgueFile