Did Jesus mean it to come to this? Yes!! I think he did!!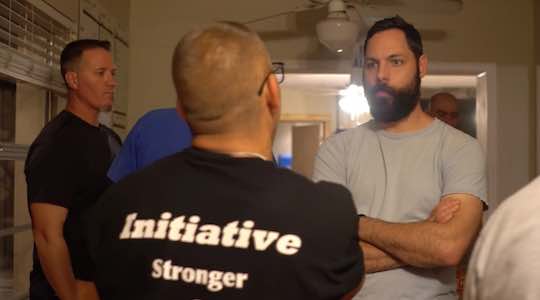 One common theme of this blog is that the 21st century western church too often seems to have lost the vision of the mission of Jesus, and settled for something far less noble.
So it is a great pleasure to be able to wholeheartedly recommend a branch of the church which seems to have kept central Jesus' vision to love God and love our neighbours.
If you haven't heard of it before, let me introduce you to the Underground in Tampa, Florida.
There's gotta be more than this!
About 20 years ago, a bunch of christian university students in Florida were committed to christian ministry on campus. So when they graduated, they went back to their churches, and they looked around for opportunities to do worthwhile ministry, but found their options were limited. They all tell a similar story …..
Stacy Gaskin: "On campus, honestly, we were experiencing a potent form of church. But when I would go on Sunday morning and try to worship and listen to a sermon, it began to just come up short, and it felt like there has to be more to following Jesus in the world than this."
Keisha Polonio: "there times of like, I want to get invested, I want to try to do something, I want to use my gifts, and the only options that were available were being on the worship team, kids ministry or women's ministry. And I just thought there had to be more. God is doing something more in me and they do not fit in the parameters of these three options. Is there anything else? And there wasn't. And I think that was the moment when I realised I think we need to leave."
Jeremy Stephens: "These people had been amazing leaders on campus – evangelists, leaders, they'd gone overseas – they're amazing, they're trained, equipped, experienced, and they're told I need you to sit in a pew and I need you to give money …. and maybe you could do the parking ministry ….. and that just really upset us over time, every week we'd just come back from Sunday service and go: this is not what we see in scripture, this makes no sense with our lives"
And so ….
"In the summer of 2006, about 50 of us left our traditional churches to form seven house-based church groups."
But the difference between these groups and many house-based churches is that these 'microchurches' are very mission focussed.
The Underground today
Today the Underground comprises 200 autonomous microchurches in Tampa, and the Underground is part of a network of a dozen similar movements across the globe, in the Americas, Europe and Asia.
"Our passion is for the poor and the lost. We empower communities to reach and serve the people who exist at the margins of the church as we know it. We believe that intimacy with God and commitment to His mission means prioritizing both those in poverty and those without knowledge of His saving grace. We also believe that discipleship of believers happens best and most significantly while obeying Jesus and following Him through mission —  therefore, we empower believers to seek the heart of God in prayer to know their unique calling, and to find a community where they can truly live it out. We then work to mobilize communities to meet the needs of the world around us, and to proclaim the good news of the kingdom."
Microchurch mission
The microchurches comprise believers who "work together in sincere worship and genuine community to accomplish a part of the mission of God". They engage in an amazing variety of missional projects, including:
Honour One – God's heart for Asian people
Mama Africaner – mentors to black schoolgirls
Kindred – open home, hospitality
Timothy Initiative – a community for men in recovery from addiction
Beer and Bible – a Bible discussion in a bar (a safe place not in a home or church)
The Well – serving the poor via food, drop-in centre, a place to be heard and a bike shop
Created – ministry to the sexually exploited, including prostitutes
Grounded – support for foster carers
Help for those involved in the adult entertainment industry
The Just Initiative – help for the homeless
Impact Global International – community recycling in Haiti, turning waste into energy
Justice Restoration Centre and Advocates Against Human trafficking – serving victims and survivors of human trafficking
other groups support women, the black community, school kids and university students, single mothers, women harmed by sexual abuse
still other groups do arts projects
The Hub
The Hub is the central headquarters of the Underground. The building includes meeting rooms, a clinic and common space for meals and fellowship. Staff provide mentoring, counselling, media, coaching and training.
There is a Sunday meeting, more or less what most of us would recognise as a "church service", but it is considered a support for the microchurches rather than the core of the Underground. Less than half those in microchurches attend and some attend other churches.
Organisation
The Underground seems to be organised amazingly well, with so much established in just a dozen years. They have elders and a Board of Directors. They have developed a Manifesto that spells out 18 core values (some of them: Jesus, the poor, simplicity, prayer and dependence). They have prepared resources, and have expert staff to assist, guide and mentor the microchurches in Tampa, and anyone else who wants to join the network.
Perhaps most amazingly of all, they seem to have remained both humble and focused on the mission of the microchurches rather than a senior leader's empire.
Balance
The Underground is more or less conservative evangelical in its theology but apparently flexible in how it is applied, community-minded and mission-focused – which means evangelism, community welfare and social justice.
The challenge
We have to be careful not to make idols out of christians who we admire. Doubtless the Underground isn't perfect.
But I feel inspired by their vision and the reality. I encourage you to watch the video of their work, and be inspired too. And maybe we can all put some of this into practice. The last word comes from Underground's Executive Director Brian Sanders:
"…. become the church. And that means starting with mission. We still think that we plant churches by starting worship services, by inviting people to a worship service, but this is not fundamentally what the church is. A worship service is a good thing, a beautiful thing, an important thing, it can be something that's full of life and vitality and the delivery of the word of God, the voice of God to a community, but only if they are vibrant with mission first."
"But what I'd say is, if you want to change the church, want to be part of engineering some kind of change in the church, extract youself from it, from its politics and expectations, find a place where non-believers are, where needy people are, where those who are hungry for the kingdom but don't know it are, get a team of people, root yourself there and see the kingdom come."
"If you do that and people come to Jesus, you're going to have to baptise them, disciple them, you're going to have to meet real serious needs, and you will become …. an alternative to the earthly church."
"Win them by doing the things we believe in."
Check it out
Underground People. The documentary.
Photo of men in the Timothy Initiative, an Underground microchurch for men recovering from addictions, taken from the Underground People video, which can be found on The Underground website.