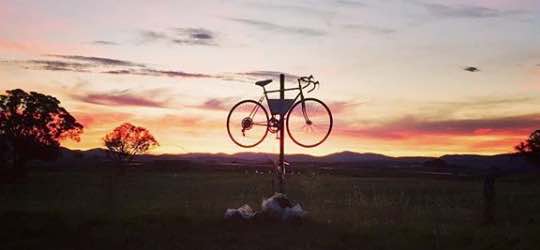 Some readers may recall, 18 months ago, two posts about the long distance endurance cycling race, the inaugural Indian-Pacific Wheel Race, which tragically ended in the death of one of the leading contestants, Mike Hall.
At the time I spoke of the grief many participants and followers of the race felt, and the very sensitive and admirable way in which the cycling community dealt with the tragedy.
Today I can report something even more admirable – how forgiveness can show love in the midst of tragedy.

This week the inquest into Mike's death was held in Canberra. Mike's partner Anna and his mother Patricia flew out from England to be present, Anna's trip being funded by the cycling community. Race organiser, Jesse Carlsson from Melbourne, also attended – it is clear he has suffered deeply from grief and self-blame in the 18 months since the accident.
We must wait until January 2019 for the final report of the inquest, but the general circumstances seem clear. Although the lighting and reflective material on Mike's bike and clothing conformed to road rules, several drivers on that fateful morning reported finding him difficult to see until they were very close, and a 19 year old P-plate driver hit him, and Mike died almost instantly.
The driver has not, so far at least, been charged by police, but many in the cycling community feel that he should be.
But this report from Mike's grieving mother, Patricia Hall, made an impression on everyone:
"I came half way across the world for my boy. I attended the Inquest and sat for three days listening to the evidence. I knew whatever the findings will be that I have to live with it. There is no blame no anger and no recriminations. I went for my son who always asked people to be kind to each other and have empathy. I saw a young lad with fear in his eyes with sorrow in his heart and I took him in my arms and held him tight as he sobbed that he was sorry for what he had done. I hugged him and his girlfriend, told him I forgave him and asked him to try to move on and find a way forward to look after his young family and to have a good life . I came to Australia to find answers and I did. I found the answer all around in the courtroom. I saw destructive anger that is negative. I saw people so wrapped up in their own need that it destroyed what my son stood for. But I also saw incredible steadfastness and the ability to reach out and have compassion. I came away with clarity. I had done what Mike would have done. I forgave. Be kind to us."
As one commenter said, few who read that reflection remained dry-eyed. Forgiveness has that quality – it releases the forgiven and the forgiving from guilt, fear and bitterness.
My admiration for Patricia Hall is profound. We christians, who know the forgiveness of God, can learn.
May God give peace to her, and Anna, and Jesse, and everyone who has grieved Mike's loss.
Photo: The "ghost bike" memorial to Mike Hall, at the scene of his death on the Monaro Highway south of Canberra, by vk3bq aka Andrew on #IPWR on Instagram