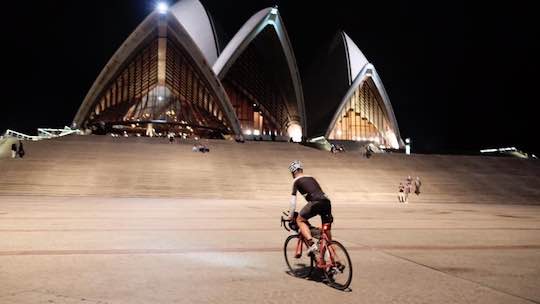 I wrote last week of the grief I and many others had felt at the death of champion cyclist Mike Hall and the termination of the inaugural India Pacific Wheel Race.
In the week that has followed, I have been enormously impressed by the dignity, sensitivity and camaraderie of the cycling fraternity. I think we can all learn from it.
That was the week that was
After the race was called off, memorial rides ("Ride4Mike") were organised in most Australian capital cities, in other places along the route, and even overseas. Hundreds of riders took part, flowers were laid and reminiscences shared. Tributes poured in on Facebook, Twitter and Instagram.
Some riders terminated their ride and joined the tributes. Other riders continued in what was now re-named the India Pacific Wheel Ride, their trackers remained on and avid followers continued to go out to the roadside and cheer them on. We joined in, giving a wave and support to three of these riders, who had each completed 5,400 km of tough riding in less than 3 weeks.
Leading rider Kristof Allegaert turned off his tracker but continued the last 200 km unannounced and un-tracked, arriving at the Sydney Opera House finishing line unannounced and almost anonymous in the late evening. Another overseas champion, Juliana Buhring ("Juju"), apparently a close friend of Mike's, terminated her race, attended the memorial ride, then returned to the spot where Mike was killed to "finish for Mike".
So as I write, a dozen or so riders continue their trek across Australia, interest in their progress hasn't waned, international and local riders have been gathering on the Opera House steps to welcome each of the 5 tracked finishers so far, and display a clear sense of community.
So what has impressed me?
Respect
The word most used on social media in all this has been "Respect". Onlookers following the race "respect" the athleticism and determination of the riders. They "respect" Mike and his memory. They "respect" the choices each rider made once the race was called off.
It is a lovely word, almost an old fashioned word, but it means a lot.
Freedom
Very few people, if any, have criticised the choices of riders to keep riding or pull out. Everyone has respected the individual choices of Kristof and Juju. Most everyone has supported the race organisers' choice to terminate the race, and very few have criticised it.
It seems that most everyone has respected the freedom of each individual to make their own choice without criticism.
Sensitivity
The organisers in particular, and everyone else, have shown great sensitivity, and have seemed to make the right choices every time. The memorial rides, the flower and written tributes, the way the fatal accident was initially announced and dealt with, the videos that have been produced since, the concern and kind words offered to the driver involved in the accident, and the sincere tributes to Mike Hall, have all been performed sensitively and carefully.
Inclusiveness
Male and female, old and young, experienced and newcomer, rider and spectator, all seem to be welcome and equally respected.
Community
This has been a community that seems always to be encouraging each other. In its shock and grief, the community has gathered round each other, cared for those hurting most, and shown respect to all. As an outsider, I find it very impressive. This appears to be a community I would be happy to be a part of.
Let's learn
We christians believe we have something more important than cycling to celebrate, and that belief can generate strong emotions. Nevertheless, I feel humbled, and challenged, to have been on the very fringe of this cycling community for the past 3 weeks.
Challenged to show respect to others, even when I disagree, perhaps especially when I disagree with them, and regardless of their status.
Challenged to always try to respect others' freedom and choices. God gave them the ability to choose, and I should respect that.
Challenged to be sensitive to others who are hurting, who disagree with me, or who just need a little more understanding.
And challenged to be part of a christian community that really cares for and encourages every member, and every outsider too, that supports the broken-hearted and the struggling, that puts fellowship and camaraderie before petty differences.
Thank you IPWR community for the grace you have shown in a time of difficulty.
Let's all be challenged, christian community, to do at least as well!
Photo: Race leader Kristof Allegaert quietly and unofficially completes his 5,471 km journey without fanfare (IPWR Facebook page).