Guest post by Shane Claiborne (taken from his Facebook page – see note below)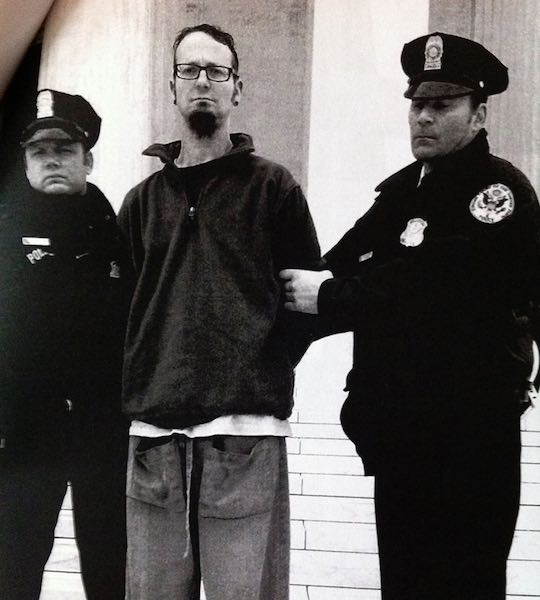 Last month, I was arrested, along with 17 other people, as we held a banner on the steps of the Supreme Court that said: "STOP EXECUTIONS."
We were not blocking doors or disturbing the peace. We were not unruly or disruptive. We were respectful, prayerful, nonviolent. We sang freedom songs. We carried roses in remembrance of those who have been murdered and those who have been executed. It was a solemn, holy procession. We tolled a bell 40 times signifying the forty years of executions in this modern era, and we held 40 posters with the names of the 1443 people killed by our government.
"Parading and Assemblage" – that's the official charge, an obscure one that until now I didn't even know existed. I remember hearing someone joke: "I guess The First Amendment ends on the steps of the Supreme Court."
So that's our crime: we held a banner outside the Supreme Court… at the very moment the state of Virginia was preparing to kill yet another person, Ricky Gray, execution #1444 since 1977.
We were shackled with chains on our hands, waist, and feet, and held in jail for over 30 hours. While we were in the DC jail, the same government that imprisoned us for holding a banner executed Ricky Gray. It does raise the question of what is right and what is wrong, doesn't it?
When I got home from jail, I told some of our kids back in Philadelphia: "You can go to jail for doing something wrong. You can also go to jail for doing something right. We went to jail for doing something right. And lots of folks throughout history have gone to jail for doing something right."
Dr. King once said that initially he was troubled about going to jail, but then he looked at history and found that he was in good company.
This past week the 18 of us had our first appearance in court.
I am proud to stand next to the people I went to jail with, these holy troublemakers who are now my co-defendants. The group includes clergy and faith leaders, an exoneree who was wrongfully-convicted and sentenced to death, and families of both the murdered and of the executed.
Twelve of the 18 of us made a decision to take our case to trial, rather than accepting a plea bargain offered by the government. If found guilty, we could face jail time, fines, and community service… all of which pale in comparison to the twenty years my co-defendant Derrick Jamison spent on death row, staring down 6 execution dates, watching over 50 of his peers killed by the state… before he proved his innocence, and was released with no apology or compensation.
That's why we went to jail — to expose the system of death. Our prayer is for an end to all killing, both legal and illegal. Our message is that violence is the disease, not the cure. It is time to stop trying to kill those who kill to show that killing is wrong.
We know that we are on the right side of history, and that our grandchildren will look back at the death penalty 50 years from now the same way we look back at slavery — with shame, bewilderment, and remorse.
Someone asked if I had any regrets. I said: "Only one… that I didn't do this sooner." I am proud of what we did. Not only would I do it again, but I will do it again. We will not stop protesting until the government stops killing.
We have a great attorney – one of the best — and we have every intention of defending the legality of what we did. But our hope is to take the focus off of us and put the death penalty on the stand. While I believe we are innocent of any crime… I am convinced that our country's criminal justice system, and our Supreme Court's validation of the death penalty, is a crime… and a moral failure.
As fate would have it, or as some of us might contend "by Divine appointment"– our trial is the week of June 28. That means our trial will coincide with one of the most important weeks in history when it comes to the death penalty. June 29 is the anniversary of the 1972 Furman v. Georgia decision in which the U.S. Supreme Court struck down the death penalty, finding its application to be arbitrary and capricious, halting all executions. Four days later, July 2, is the anniversary of the 1976 Gregg v. Georgia decision, which allowed executions to resume. These four days between these two historic anniversaries invite us all to question whether or not the death penalty has a future in America. During the week of our trial, the annual Fast and Vigil to end the death penalty will happen in front of the Supreme Court. I hope you will join us in DC– June 28-July 2, 2017… as we put the death penalty on trial.
Shane Claiborne is an American christian activist, writer and leader who I admire deeply. This text and photo were taken from Shane's Facebook post, and he says the photo "is thanks to Supreme Court Police and Federal Marshals, who apparently took some of the best images".