This will probably be the last in this series of posts on Understanding the Bible in the 21st century.
When it's all said and done about the Bible, sometimes more is said than done. But the purpose of the Bible is not to simply read, but to lead us to action. What does the Bible call us to do if we choose to follow Jesus?
A script for living in the kingdom of God
So many people, believers and unbelievers, think the Bible should be giving us rigorous information about all sorts of things, and rules to live by. But we have seen that the Bible has far more stories than a rule book would have, and the Holy Spirit can use it in a creative way to teach us new things. So it is more than just information, and more than a rule book.
Some people say that the Bible is a love story – of a loving God reaching out to his own creation, people who too often turn their backs on him. And this is surely true. But it is more than that.
"The Bible is a script for living in the kingdom of God"
CB Samuel
God doesn't just reach out to us in love, he calls us via Jesus to join in the work of building the kingdom of God on earth – making God's rule more evident. And the Bible is the script for us to read from, and which the Holy Spirit interprets to us.
The Bible shows us Jesus
Jesus lived his life, and died, to establish the kingdom of God on earth. God "could" have forced everyone to do his bidding, but that isn't the way he wanted it. We humans are in charge on planet earth, so God works through humans – people who will voluntarily serve in the great mission of God's kingdom, where wrong things are put right. First Jesus, then those who choose to follow him.
The historians confirm that we get a reliable picture of Jesus in the gospels – as EP Sanders said: "We know who he was, what he did, what he taught, and why he died. ….. what Jesus was out to accomplish …. what he said". There is enough there for us to decide whether we believe he was telling the truth, we believe in his mission, and we choose to follow him in that mission.
That choice is the key to everything. Christians who don't feel drawn to Jesus and drawn to making that commitment to join his mission, but believe out of fear or family tradition, or whose understanding is more about doctrine and rules, are sadly missing the main point. They may even end up dropping out because Jesus wasn't the beloved leader they were following, but just the name of a religion they were part of. And unbelievers who miss this will likely find themselves rejecting something that is a long way from what believers are committed to.
The Old Testament too
We have noted some difficulties with the Old Testament – uncertainty about which parts are historical and which are not; uncertainty about how to understand some of the more violent aspects. But this isn't the whole story. The OT concerns a covenant that is no longer current, but it still shows us God interacting with people to prepare the way for the coming of Jesus, and the Spirit still can teach us from it.
The Bible shows us how to start the adventure
We can enter the kingdom by believing what Jesus said, asking for forgiveness for previous wrong attitudes and actions, putting our own agendas aside and resolving to follow the way of Jesus in the way we live.
It's really as simple as that.
But the start is not the journey
Some christians act as if starting the journey – committing ourselves to following Jesus – is the main game. It's an important part (all journeys begin with the first step), but Jesus wants us to endure to the end. And not just endure, but to run the race wholeheartedly all the way. The Bible helps us follow in his footsteps.
Bible and Spirit show us Jesus' values
Wholeheartedly loving God and his creation, especially our fellow humans.
Putting the work of the kingdom ahead of our own wants and needs, which means asking God to guide our choices.
Allowing God to develop a new character in us.
Recommending the good news of Jesus and the kingdom to others, in both word and action.
Not holding grudges, but forgiving those who hurt us, as God has forgiven us.
Taking opportunities to help the disadvantaged, and put injustices right.
Being truthful and sensitive to others, and not trying to always come out "on top", but to serve.
This is where the rubber hits the road. Living out these values has led christians to compassionate caring for women and children in the Roman empire, starting schools and hospitals at home and in poorer overseas countries, ending the slave trade in the UK and elsewhere, fighting injustice, helping fight the effects of famine and drought, caring for the homeless and the suffering, promoting peace and reconciliation and running social services such as addiction rehabilitation and aged care. We can each find a place to serve or support.
Bible and Spirit show us we are not alone
Believers don't go it alone. Jesus promised that God's Spirit (not just an influence, but as much God as Jesus was himself) would lead and empower his followers.
Jesus-followers are part of a new community, with a whole new family of brothers and sisters, and a new way of living, together.
We learn as we go.
Just do it!
And so let us be people who follow Jesus in life as well as in word. Let us allow the Bible and Spirit to guide us into "the good works God has prepared for us to do" (Ephesians 2:10).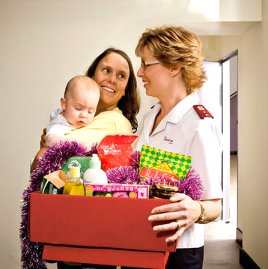 There is a time for investigating the truth and sifting the evidence. There will always be things we don't understand, just as in the rest of life. There may even be time for doctrinal dispute, though I hope we don't waste too much time in that little side-track. And there will always be doubts along the way that have to be investigated.
But once we have decided to follow Jesus, the main game is action more than talk. "Let us be doers of the word, and not hearers only." (James 1:22)
Photo Credit: pamhule via Compfight cc