Art can reveal and evoke deep thoughts and emotions. Art by talented and thoughtful final year high school students in Sydney (Australia) shows how the coming generations feel about themselves, their families, the world and the future.
Their ideas, and how they are presented, are impressive. They seem to have aspirations that would take the world to a better place than our present leaders are taking it.
And I can't help feeling that the church could learn a lot about its own mission by listening and looking.
Art Express
Final year students in New South Wales can elect to do art as a subject. Part of the requirements are that they produce a major work. This can be painting or photography or other form of visual art, a sculpture, structure or model, or a video, or maybe a montage or collage.
Those works judged the best or most interesting are exhibited for several months in several venues around the state under the name Art Express. One of the venues is near where we live, so every year we check it out.
The exhibits include the students' outlines of the motivation and inspiration behind their work, which allows us the get further insights into what is important for these emerging adults.
Major themes
Heritage & self
Many students reflect on their life and family, and their future, which they may see through a lens of hope or concern. Because many Australians come from overseas, from many different countries and cultures, many students value their connection with the past lives of parents and grandparents. At a time in their lives where they may feel quite introspective, vulnerable and uncertain, family provides security for many.
Environment
Many artworks express a concern about our world and its future. Climate change is an important issue for them, as is loss of species and habitat. Many feel our responsibility as humans to care for our fellow earth-dwellers. This year one student expressed these concerns by drawing a bee that required a gas mask to avoid pesticide sprays, a polar bear needing diving gear because of ice melt, and an Australia koala wearing a bushfire fighting helmet (many koalas perished in devastating record fires in Australia 3 years ago).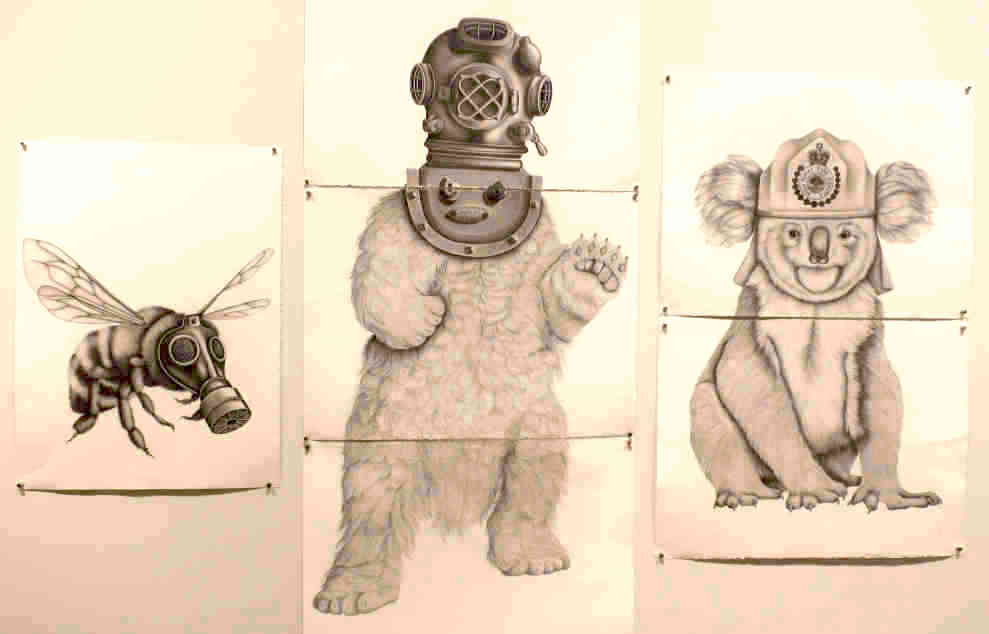 The artists also expressed concern and appreciation of our built environment. This intricate 3-D model, made essentially from cardboard scraps, was a wonder to view from every angle.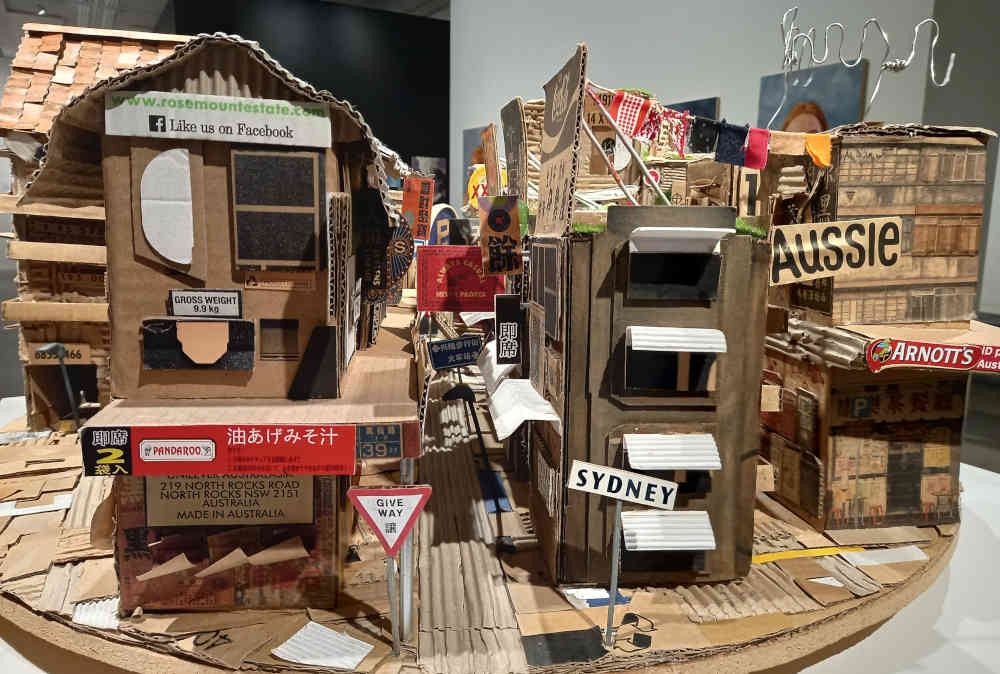 Justice & compassion
Tony Campolo said youth is made for heroism, because they can be idealistic, see issues with raw clarity, and feel galvanised to act. Australia's treatment of refuigees, inaction on climate change, and the harm people can do to each other are subjects of concern to many. "Collateral Damage" from 2021 expressed one student's compassion for children displaced, injured and traumatised by conflict, especially in the Middle East. This graphic shows three of seven children she portrayed.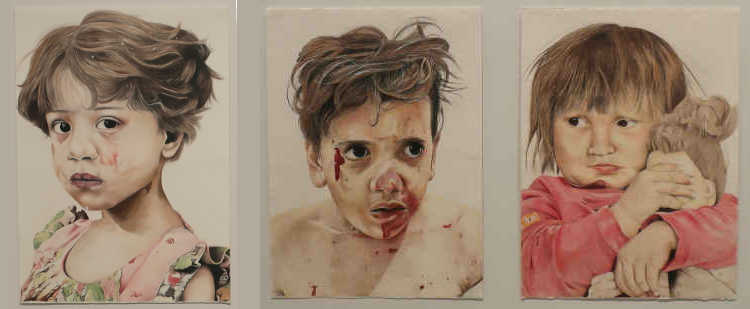 Personal ethics & religion
Some artists choose to reflect some of their responses to religious and more personal ethical questions. A striking work this year addressed four aspects of life that the artist regarded as vices, portraying them as goddesses. Two of them were a Kali-like goddess portraying greed, and a portrayal of vulnerable sexuality with Venus sheltering in a womb while offering temptation.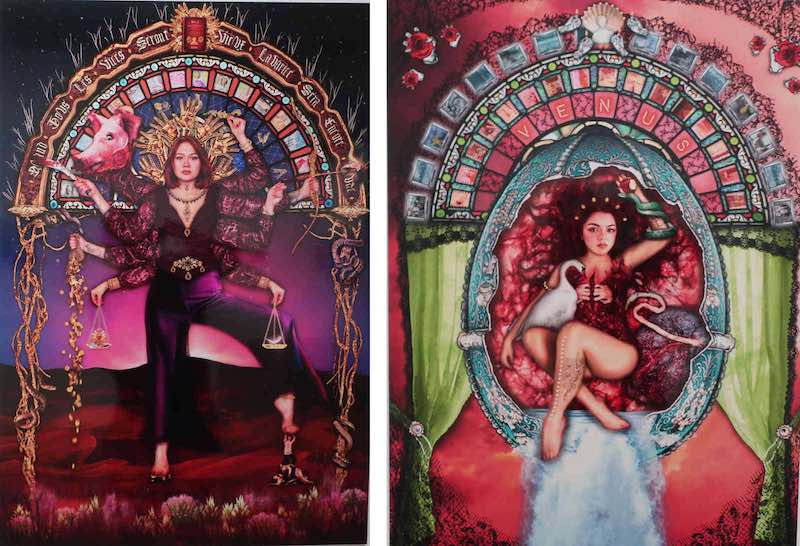 Listening
Every year I come away from Art Express appreciative of the thought and skill behind all the works on display, and better understanding the concerns of these artists.
And slightly frustrated that the church can seem shallow in comparison, focusing too often on gender and sex, and religious freedom, while giving insufficient attention to the weighty matters that concern these school-leavers, like greed, violence, identity and security.
Jesus' good news of the kingdom of God addresses all of life, and has plenty to say on greed, violence, identity and security. If we were presenting the good news well, this generation would know there is hope where they now feel concern or anxiety, and an ethical and truthful basis for living in ways that address these issues.
Surely we need to listen, and answer the questions and concerns that people feel rather than the questions and concerns we think they ought to be feeling, or the ones of decades ago?
Graphics are my own photos of Art Express works over a 9 year period, and are used with the permission of Art Express.
Related Posts