"It's no secret that the stars are falling from the sky
It's no secret that our world is in darkness tonight."
U2, The Fly
And it's no secret that the church in the western world has lost credibility, numbers and influence. And that christian faith has been in decline in western countries as a proportion of total population. The statistics are obvious and well-known.
Less obvious is what to do about it. Ignore the "problem" and hope it goes away? Grit our teeth and work even harder? Or rejoice that a moribund organisation is going the way of the dodo and the dinosaur?
I can't feel any of those responses is adequate. Jesus deserves more. But what to do?
Perhaps we need something completely different?
Perhaps a church that is outward looking, low budget, flexible and open-minded, led by ordinary people, and in tune with the culture around it. If that sounds good to you, read on!
We need something completely different
The church in Europe, North America and Australia & New Zealand has had much the same form for centuries. But it is no longer a sustainable form. Attendances have been falling for years in most western countries. Many churches have closed and the prognosis is poor for many others.
Not only that, the pandemic showed many pastors that their churches hadn't raised strong disciples – without their weekly church "fix", many christians were hard-pressed to sustain an active faith.
The current form of church has been described as a SIC model:
Sunday-centric. The main public focus is what happens on Sundays.
In-drag. The way to grow is to invite people into the christian space.
Christendom-form. People meet together in a special (often ancient) building on Sundays. Songs are sung, prayers offered, the Bible read and a sermon or homily given by a trained clergy-person. The same as it has been for centuries.
Trouble is, many people are otherwise occupied on Sundays and the form of activity we are trying to drag them into is quite foreign to them – public singing of unfamiliar songs, sitting and listening to someone speaking at length on topics that may not interest them or be relevant to them, and language, behaviour and ritual that likely make them feel uncomfortable.
Younger people are less likely to attend church, so most churches are ageing, which only leads to one end result.
If we want the church to sustain and grow, something has to change. Albert Einstein is (probably wrongly) reputed to have said: "The definition of insanity is doing the same thing over and over again and expecting a different result."
Why doesn't the SIC model work?
The current model of church was developed in different times. People were more religious and religion was more respected than now. People didn't move around so much, so most people attending a particular congregation came from the same culture and the church services could be tailored for that culture.
But now people are more pagan than religious, and come from a "kaleidoscope of diverse and ever-changing micro-cultures". Even those growing up in the church can find its beliefs and practices difficult; the majority who weren't raised going to church can find it all baffling and off-putting, or totally irrelevant.
Of course some churches can overcome these deficiencies via a lively community deeply engaged with the surrounding cultures. But the problem is, these churches are in the minority. Worse, the strategy of planting new churches, building new buildings, training new clergy, etc, is slow and costly, and cannot grow at a sustainable pace to even keep up with population growth.
For example, in a city the size of Sydney (population: 5M, growth 1.3% p.a.), it would require a new church with a hundred people attending to be established each week just to keep up with population growth. It isn't going to happen!
Attendance numbers aren't the only problem. The decline in discipleship exposed by the pandemic can be in large part attributed to the way the SIC model keeps most people passive, which isn't conducive to learning and growth.
So what is the answer?
Quantum mission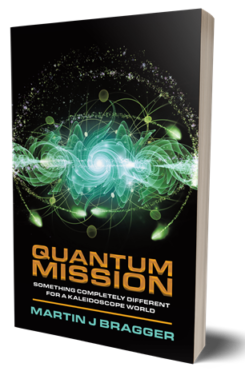 Most of the ideas I've outlined in this post come from a new book by my friend Martin Bragger, a retired minister here in Sydney. Martin has done the research and developed his "something completely different" for the twenty-first century church.
Most importantly, this isn't theory, as Martin has put his approach into practice over a decade.
He has labelled his approach "Quantum Mission" because "it requires viewing mission in a totally new way", just as the science of quantum physics has revolutionised physical science.
Five principles
Five key principles shape his approach:
We need to see ourselves as being on a mission and not just living an easy life. (Martin identifies the need for culturally-sensitive evangelism, but I feel he doesn't give adequately address serving our community, especially the poor and struggling.)
We have to be willing to get out of our christian ghettos and be "embedded" in the cultures around us – "their place, their time, their language and their style", not ours.
We need to have "cultural intelligence" and be flexible and adaptive, so we learn as we go and change as needed.
Our missional approach has to be small and inexpensive, so it can adapt and morph as culture changes, and so it can multiply rather than grow slowly.
It will need to be led by new, entrepreneurial, mostly lay, leaders, who need a very different kind of training from what paid clergy currently receive.
Missional communities
Martin's approach is built around small missional comunities, but he refuses to try to give a prescription for these, for they need to adapt to the situation they are in ("Quantum Mission isn't a formula but a freedom").
He envisages a network of small groups of people, mixed believers and not-yet-believers, meeting within the "live, work and play" micro-cultures that the participants are part of. The aim isn't to go "out" and bring converts back into the safety of our religious buildings, but to "go and stay" and continue to be light and salt in the community.
They will serve the community around them in some way, and meet as a simple church – i.e. they share, read the scriptures, pray and encourage each other. Most importantly, they will meet in a location where they are visible and approachable. (Martin has begun such communities in an Aussie pub, in cafes, in clubs.)
These networks could exist quite independently, as Martin's groups currently are, or be part of a more established "mixed economy" church (i.e. both conventional church and missional communities).
These aren't easy steps for many of us
For any of this to occur, the new church comprising missional communities will need brave and entrepreneurial leaders trained in a totally different way – not only Bible exegesis, but human relations and entrepreneurial leadership. It will need christians willing to take hold of Jesus' mission to "make disciples of all nations" rather than sit comfortably fed in safe pews.
It will be hardest of all for clergy and Bible colleges, who need to adapt to a totally new way of doing things. But if we are going to reverse the decline, these difficulties need to be faced.
Quick book review
Not everyone needs to read this book. But church leaders certainly do. And anyone who wants to see the christian faith grow and flourish in postmodern western secular societies.
Martin's book takes its place alongside others which have pointed a revolutionary better way for the western church (see below for some others). He is well equipped to write this ground-breaking book:
He is an adult convert to christianity, so he isn't enmeshed in unhelpful traditions.
He has established more than half a dozen missional communities in his local area, and most are still functioning. He's not just a theoretician, he's "been there and done that".
He has a gift for colourful phrases that encapsulate an idea:

the SIC model
"the dead hand of apathy"
the ever-changing kaleidoscope of urban tribes and micro-cultures
the square wheel syndrome
Mission Pluto (to people far from the sun)
"their place, their time, their language, their style"
I think in his eagerness to get these ideas across, he reinforces and repeats these phrases a little too much, when I would pefer some of them to be more fully explained and more examples given. I think he would say he wants us to supply that detail, so we don't follow him but follow the Spirit and the culture around us. But he has so much in his head, I think we'd learn from some extra detail.
He stresses culturally-sensitive evangelism but says little about how we must serve the community if we are to fulfil Jesus commands. The two go hand-in-hand I believe, and some discussion of how missional communities can serve the community would enhance the book. His approach to evangelism is traditional evangelical, whereas I think a slightly less direct approach may be better, but that doesn't change the principles he is presenting.
Finally, I am not as confident as Martin that the missional community approach would reverse the decline in christian belief. I agree with him that deficiencies in the church are a major factor in the decline, but I think there are several other factors outside our control. (I think the church's inability to make disciples is the main problem- but that's another story!)
But this new take on an old approach (as old as the first century!) would surely help.
The bottom line
This book doesn't have all the answers, but its main ideas take us an important step forward in thinking about the future. I can only hope (and pray!) that people are listening, especially clergy and denominational leaders who desperately need something completely different.
You can buy Quantum Mission at online book-sellers (prices vary a lot, so look around!), and you can visit Martin's Unbounded Church website.
Other books worth reading

Related Posts
Photo: Leonid meteor ("falling star") shower by Navicore.