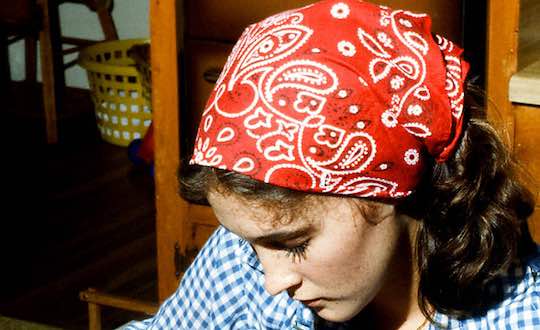 The church I attend is part of a denomination which, based on the teachings of Paul, doesn't allow women to be the senior minister in a congregation or to preach to a mixed gender audience.
A few weeks back a young woman, bare-headed and wearing casual clothes, led the prayers in the Saturday evening service we attend. Immediately afterwards, the Bible was read, and the passage from 1 Corinthians 11 included this statement:
"every woman who prays or prophesies with her head uncovered dishonors her head"
Then a few weeks later, a young women read the Bible passage for that day, from 1 Corinthians 14, which included this:
" Women should remain silent in the churches. They are not allowed to speak"
Amusement, text messages …. and questions
Both occasions generated some amusement among the mostly teen and young adult congregation. The girl praying bare-headed was sent at least one SMS after the service, light-heartedly drawing attention to her "disobedience". At the same time one of the ministerial staff, who has shoulder length hair, was jokingly reminded of the verse in the reading which says: "Does not the very nature of things teach you that if a man has long hair, it is a disgrace to him".
But gradually more serious issues emerged.
One young adult asked:
"If we take the commands for women not to teach seriously, why don't we take the other commands seriously too?"
Other young adults (male and female) don't agree with the church's doctrine on women, and this just added to their critique.
Doctrinal answers
The justification for the different approaches to these passages isn't clear.
The long-haired pastor said it wasn't an important issue, but surely inconsistencies in Biblical interpretation are a major issue, especially if they point up weaknesses in current positions.
It is often argued that the statements about hair were cultural, and should be re-interpreted into today's context, while the statements about women being silent and not being allowed to teach or be in authority were for all time and situations, but it isn't always easy to justify such distinctions from the reasons given by Paul…..
1 Timothy 2:11-12
The command "A woman should learn in quietness and full submission. I do not permit a woman to teach or to assume authority over a man; she must be quiet." is based, Paul says, on this: "For Adam was formed first, then Eve. And Adam was not the one deceived; it was the woman who was deceived and became a sinner." This reference to Adam and Eve, it is argued from the conservative viewpoint, makes the command general and not cultural.
But many commentators argue (based on the Greek words) that Paul was writing against a specific situation of false or domineering teaching and not making a universal rule. Some point to the teaching in the same passage against "elaborate hairstyles or gold or pearls or expensive clothes", a teaching which is not commonly followed in western churches. If we don't follow this section, why should we follow the later prohibition, it is argued.
Bible Gateway urges a view that avoids either extreme: "easy answers that either simply impose culture on God's will or neglect culture altogether must be resisted."
1 Corinthians 11:2-16
This passage, as we have seen, argues that women should avoid shame by covering their heads while prophesying or praying in a church meeting. The reasons given include:
there is a hierarchy from God to Jesus to man to woman;
the order in creation of woman being created "for" man;
it is a disgrace – women with shaven heads or unveiled women were considered to be promiscuous.
However although these reasons seem as universal as the reasons given in other passages to support the traditional view, most accept that this command is cultural. Hence few churches today insist on women covering their heads if they lead worship, pray, read the scriptures or prophesy.
1 Corinthians 14:34
Several reasons are given to support Paul's command, "Women should remain silent in the churches. They are not allowed to speak, but must be in submission":
"as the law says" – but it isn't clear what Old Testament passage this is referring to;
"it is disgraceful for a woman to speak in the church" – no reason is given, but based on chapter 11, this is probably cultural;
"what I am writing to you is the Lord's command" – but there is no clear command of Jesus to this effect; perhaps Paul is claiming a special revelation here.
But all attempts to claim these reasons are universal fall foul of Paul's acceptance in chapter 11 that women can indeed speak, provided they have their heads covered. One christian who supports the traditional views of male headship argued that this passage is referring only to the judging of prophecy during a service, which is the main subject under discussion in 1 Corinthians 14. But there is no indication in the passage that this is the meaning.
Because of these difficulties, many commentators argue that the command is cultural and particular to the situation in Corinth. In an old commentary, Leon Morris says: "It would certainly be wrong to take these words of Paul out of the context for which they were written."
Ephesians 5:25-33
This passage is directed at families rather than church meetings, and so says nothing about speaking in church meetings. However it reinforces the hierarchy of God – Jesus – husband – wife which is seen also in 1 Corinthians 11.
How should we conclude?
Each of the three passages which discuss women speaking in church offer some reasons which appear universal, but also offer some reasons why we maybe should consider the prohibitions cultural. There are other commands in the same passages which most churches don't apply literally today, making it harder to argue for the traditional view. Arguments both ways can be made from the Greek words – making that type of argument more or less futile.
I personally am unable to see a clear principle which allows us to clearly decide one way or the other. Resolution will require something different to normal exegesis.
Three ways to go
We can hold the traditional view despite the obvious anomalies – but expect more and more younger christians to walk away from this view – and perhaps from churches which hold it.
Go with the flow, let go of the old ways, interpret these passages as applying to that time and situation, and have full equality in churches. This will be popular culturally but may alienate older and more traditional christians. And it may even cause people to wonder what other christian teachings can be questioned or even discarded.
Accept that the Bible interpretation arguments can go on forever without being satisfactorily resolved. Instead, pray together that the Holy Spirit will show us how we should interpret these passages and how God wants us to behave today. This may be difficult, but if people on both sides can honestly do it, it brings everyone along together, and may even lead us all to new and surprising conclusions.
Thus I prefer the third option, and I believe the Spirit is already leading God's people in the direction of equality. I'm not sure how this will end up however – e.g. I don't think I believe in the ordination of women, but I'm not sure I believe in the ordination of men either, as long as it creates a clergy-laity division. I believe the best (and New Testament) model is churches led by elders, not a single senior pastor, whether male or female.
Implications for Bible interpretation …..
These passages are not as clear as they first may seem, and not as clear as either side claims. There are contradictions and difficulties with both the traditional and the progressive views. The time-honoured approach among Protestant christians of taking a literal approach, arguing over the fine meanings of Greek words, and allowing scripture to interpret scripture (which often means allowing our favoured scriptures to explain away other less congenial passages) is shown to have problems.
First century Jews, which included Jesus, the apostles and most of the New Testament authors seemed to have a slightly different approach. They accepted that there were often different viewpoints in their scriptures and they didn't seek to harmonise them. Rather, they drew on the strands that illustrated what they wanted to say, as the Spirit guided them, and sometimes even re-interpreted passages.
Rather than argue over finer points of Greek grammar, we would do better to accept uncertainty, pray for the Spirit's guidance on how we should move forward, and actually be willing to change our cherished views if the Spirit leads us that way.
That's maybe idealistic, but we can try, and hope.
…. and the faith of younger christians
Old christians seem to have come to accept all sorts of anomalies and inconsistencies in their beliefs and interpretations. These passages on women are just one example.
But many younger christians see the anomalies and are worried about them. They have been trained in their schools to question things said to them and to research alternative answers. They see the inconsistencies in calling parts of a passage cultural and other parts universal, following one part strictly and ignoring another part.
Some will allow themselves to be "educated" into overlooking the anomalies, but some will not. Some will give up their faith as a result, some will try different churches with different theologies and approaches, some will stay at their conservative churches but remain dissident, and some will become "dones" – those done with church while still following Jesus.
People on both sides of this and other debates will do well to consider the effects of their debates and their unwillingness to move towards a greater measure of agreement. Rather than try to push younger christians to toe the traditional line, older christians my choose to learn from the next generation and welcome their questioning.
Unfortunate timing
At the same time as all this was going on in our church, the Australian media and the Australian christian community were confronted with and arguing over a recent media report on a US study that showed that regular attenders at churches which teach the traditional view of male headship tend to treat their wives better than the population average does, but less regular attenders tend to treat their wives worse than average.
The report, co-authored by a progressive christian female journalist, focused more on the negative finding – whether because that was more news-worthy or because it was the information that most required action by the churches, I don't know. But many christians accused the reporter of bias and defended the church.
Other, more perceptive (in my view), christians urged we focus on women who have been abused by church-going men, and look to ways to support those women and to change the culture that might support and hide abuse. The author of the report, a conservative christian professor, came out in support of this response.
Christians and the church must surely recognise the sensitivity of these issues, and if they are going to hold the traditional view which is now anathema to modern western culture, they must be very careful how they present it. And we must surely do more to care for and protect women who have been abused or hurt by men who interpret the traditional view in a way that surely Paul never intended.
Photo Credit: scarfandbandana69 Flickr via Compfight cc