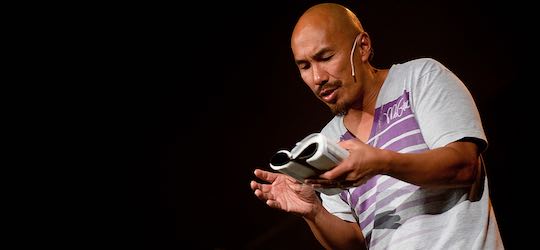 Francis Chan was just a name to me. He was a famous and respected megachurch pastor, speaker and author, but although I had heard his name, I knew nothing more. In 2010 he did the unthinkable, and resigned from the leadership of "his" 5,000 strong megachurch in California, but I remained oblivious – you can't keep up with everything that happens!
But now I read about why he took that step, and more besides, and I am interested. Please read on to see why.
Just in case you didn't know …..
Francis Chan was born in San Francisco in 1967 to Chinese parents, and had a difficult childhood – his mother died giving birth to him, and he lost his stepmother and then father by the time he was 12. His father founded a Chinese church, so Francis had a christian upbringing and was active in youth groups.
Francis completed Bachelor of Arts and Master of Divinity degrees from conservative christian institutions. At age 27, in 1994, he and his wife started Cornerstone Community Church in California, which grew to about 5,000 people by 2010. Over this period he became a well-known speaker and a successful author of several books, including the popular Crazy Love: Overwhelmed by a Relentless God.
So far so good. And in a sense so predictable.
For so far he conformed to the stereotype of the successful megachurch pastor – young, hip, captivating speaker, author, rich church, good income.
But then …..
The stereotype stops here
For in 2010, Francis walked away from all that.
He wasn't the first megachurch pastor to do that. Too many to count have had to give up their ministry because of sex or money scandals, but not Francis. Mark Driscoll faced a different set of scandals when he resigned leadership of Mars Hill church in Seattle, but that wasn't like Francis either.
Closer was Rob Bell, who resigned the leadership of Mars Hill church in Michigan to pursue opportunities in TV, speaking and writing. Francis has also continued writing and speaking on occasions, but he has stepped back from the limelight, not into it as Rob Bell has done. (PS This isn't a criticism of Rob Bell, just a description.)
What's wrong with capitalism?
Walking away wasn't the only way that Francis didn't follow the stereotypical megachurch pastor path. He gave most of his money away.
Cornerstone Church was reported back in 2008 to be giving away 55% of its income to support charitable causes, while Chan is reported to have not taken a salary from the church and to have given away 90% of his income, including all his book royalties, to support causes like combatting sex trafficking overseas.
Why walk away?
Just last month, Francis Chan, talking to Facebook employees of all people, gave a further insight into his reasons for quitting his role as senior pastor. It turns out there was a number of reasons …..
Everyone using their gifts?
"According to the Bible, every single one of these people has a supernatural gift that's meant to be used for the body", he said, but instead "5,000 people show up every week to hear my gift, see my gift. That's a lot of waste …. they just sit there and listen to me."
Megachurches, in fact any churches where a few people do most of the ministry, are not properly equipping God's people for works of service (Ephesians 4:12), because they are often stifled from using their gifts or even learning how to use them.
How much does it cost to run this thing?
Worse still, this stifling of many people's gifts and magnification of his own gifts comes at a financial cost of "millions of dollars".
For a person committed to living simply and supporting charities that assist those struggling and needing help, this must have been simply wrong.
Love one another?
Francis said he was concerned that a large congregation couldn't express real love for each other as Jesus commanded us, or at any rate it wasn't, but was just connecting for a few polite minutes each week.
He tells the story of a gang member who converted, but stopped going to church after a while. Asked why, he said: "When I was baptized, I thought that was going to be being jumped into the gang where it's like 24/7 they're my family, because I didn't know it was just somewhere we attend on Sundays."
Chan commented: "That makes me so sick that the gangs are a better picture of family than the church of Jesus Christ. I can't live with that."
That weird celebrity thing
Writing a best-selling book made Francis a celebrity, something he felt very uncomfortable with. At first it was an attractive thing, but after a while he realised it was fuelling his pride. "Everything you (God) said you hated, that's me right now," he realized. "I gotta get out of here. I'm losing my soul."
Wary of being comfortable
Finally, it was all so comfortable and easy. He said: "I could just preach, go back and drive off in my car and leave all of them like I will today, I don't have to care for your issues, you know? … I'll never see you again."
But he felt uncomfortable with being comfortable, and so he left.
What would Jesus do?
It is easy to see that Jesus tended to respond to these issues in a similar way to Francis did. Jesus didn't start a big movement at the time, and the early church met in homes and relatively small numbers for centuries. He wasn't in it for the money, and he avoided fame, preferring to walk away when people clamoured too much for him to conform to their expectations. And he was certainly committed to mutual love and service.
What now?
Francis Chan is planting small house churches in San Francisco. Currently there are about 15 churches, each with two unpaid pastors. They meet in a way "more like family where members can actually get to know one another, love one another and make use of their gifts."
"We've got a few hundred people now and it costs nothing, and everyone's growing and everyone's having to read this book (Bible) for themselves and people actually caring for one another. I don't even preach. They just meet in their homes, they study, they pray, they care for one another. They're becoming the church and I'm just loving it and realizing that these 30 guys [are] leading this and the women as well."
The movement is growing, and he has high hopes of many more house churches being planted.
The challenge
Whether we are church staff or "lay people" (a term I hate), this is a challenge. Are clergy willing to give up some of their power, and train and equip other leaders to lead, other pastors to pastor, community servants to serve, etc?
Are lay people willing to step up and take responsibility, even if it means changing jobs to give them more time, and downsizing their lifestyle so they can afford to change jobs?
There seems little doubt that the western church no longer follows Jesus in many of these things. Where Jesus was a servant, too many leaders have become Presidents. Where Jesus lived simply, too many christians (probably all of us to some extent) seek wealth before the kingdom, and too often support leaders whose rich, greedy lifestyles would be anathema to Jesus. And where Jesus hung out with the outcasts, too many of us hang out with the well-off middle class.
More power to Francis Chan!
Photo Credit: kacmedia Flickr via Compfight cc