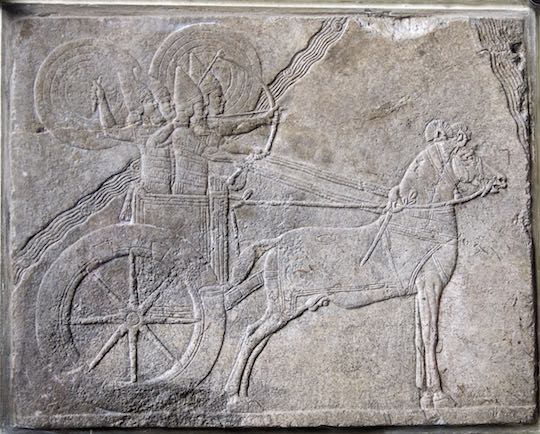 Arguments rage about the Bible and how we should interpret it, especially about the Old Testament. Conservative christians are often critical of those who take a "liberal" view, which conservatives see as destructive and unfaithful, while sceptics tend to see the conservatives as not following the evidence.
Is there any way to break through on this question? Are there any clues in the Bible itself?
It turns out that there is much food for thought.
Clues in the Old Testament
I have previously discussed parts of the Old Testament that suggest that the Bible cannot be seen as an inerrant textbook of God's character and the behaviour he requires of us:
I concluded then that the Bible God has given us must be a little different from what our theology might tell us, and some sections are corrected by other sections (mostly the New Testament corrects the Old).
Today, courtesy of Peter Enns, I came across another example.
Jehu, the mad chariot driver
2 Kings 9 tells the story of a mad chariot driver, the devious and murderous Jehu. The year is 841 BCE, and Jehu is the army commander of Israel under king Jehoram (or Joram), and they are fighting the Syrians. The king is wounded and retires from the battle. The prophet Elisha chooses this time to secretly anoint Jehu as king, to replace Joram, confirming a previous anointing by the Prophet Elijah. Elisha tells Jehu to kill all the family of the line of Ahab – Joram, Jezebel and all their relatives – because of their evil in worshipping Baal and in killing prophets.
Jehu is up to the challenge, and in his chariot leads a force of troops to Jezreel where king Joram is meeting with Ahaziah, king of Judah. The lookout recognises Jehu because he "drives like a maniac". The two kings foolishly go out to meet him, and Jehu kills them both. He duly continues the purge and brutally kills Jezebel, and arranges for more than seventy other descendants to be gruesomely murdered, and his coup is complete.
Jehu went on to reign as king of Israel for 27 years and establish one of the longer dynasties of that turbulent period (5 kings in all reigning for 102 years).
It is easy to gloss over the horror of these events (and so many others like them), but they were brutal times and life was cheap – 4 kings of Israel were assassinated in 2 decades. Yet this murderous coup is said to have been commanded by God through the prophets Elijah and Elisha.
Hosea has a different idea
Hosea was a prophet in Israel at this time, and appears to have been an educated and informed man – perhaps a member of a well-to-do family. At the beginning of the book of Hosea (1:4), he records a message given to him by God:
"I will soon punish the house of Jehu for the massacre at Jezreel"
Who was right?
Did Elisha and Elijah get it right and Hosea somehow misunderstood God? Or was it the other way round? Or did God change his mind? It is hard to be happy with any of these "explanations".
Conservative christian commentators say that God truly commanded the destruction of the house of Ahab, but Jehu went too far and so was himself condemned, but it is hard to accept this too, for Jehu seems to have done exactly as he was supposedly commanded.
Peter Enns suggests that the truth is that the Old Testament isn't an accurate and consistent record of God's commands, but rather a record of the varying viewpoints as the Jews struggled to understand God.
Perhaps the prophets Elijah and Elisha did hear from God on some occasions, but at other times fell into the trap of using their authority as God's spokespersons to justify their own political assessments and the brutal standards of the day.
Two ways to respond
How should we respond?
One way is to keep hold of our dogmatic view of scripture as consistent, authoritative and without error, and find a way to explain and justify God's behaviour, as if it is immoral for us to murder but OK for God to command us to murder.
I am deeply troubled by such an approach for it preserves a view of scripture that isn't taught there, at the cost of impugning God's loving character revealed most completely in Jesus.
I think it is more honest, more in accordance with the evidence, and a better understanding of God's character, to see the Old Testament as a record of God's interaction with humans, who started with many misunderstandings that were slowly corrected until God sent Jesus.
I don't pretend to understand all this, but I think that is as close to the truth as I can get, just now at any rate.
What do you think?
Photo: Assyrian chariot with charioteer and archer protected from enemy attack by shield bearers – not the same as the Israelite chariots mentioned in this post, but close enough. Wikipedia (Wikimedia Commons).