Times change. People's concerns change. Once the worst accusation a christian could make against another christian was that they were a heretic. But now there is a greater sin than heresy among first world christians.
It is the sin of socialism!
Why is this socialism such an evil in some christians' minds? What should christians believe about this?
Was Jesus an anti-socialist and capitalist? Was he a socialist?
Let's look at the evidence.
From his own mouth
I am a follower of Jesus, which means I try to follow his teaching as best I can understand them, and as best as I am able to apply them to my life today.
So I need to know what Jesus taught, from his own mouth.
Attitudes to money and wealth
In the Old Testament, wealth was often seen as a sign of God's approval. For example, Psalm 112:2-3:
The good man's children will be powerful in the land;
his descendants will be blessed.
His family will be wealthy and rich,
and he will be prosperous forever.
But Jesus seems to have taught against this idea. Time and time again he told stories and sayings that illustrated a negative attitude to the wealthy and support for the poor.
In Matthew 13:22 & Mark 4:19, Jesus talked of "the deceitfulness of wealth".
In Luke 21:1-3 he remarked favourably on a poor woman who have a modest donation to the temple.
In the parable of the rich man & Lazarus (Luke 16:16-31), the rich man ends up in hell while the poor man ends up in heaven. (Note, this is a parable. I don't think it is a true picture of the afterlife and who goes where.)
In contrast, I cannot recall any teaching of Jesus that shows a positive view of wealth.
Warnings to the wealthy
"But woe to you who are rich, for you have already received your comfort."
Luke 6:24
"No one can serve two masters. Either you will hate the one and love the other, or you will be devoted to the one and despise the other. You cannot serve both God and money."
Matthew 6:24, Luke 16:13
"Watch out and guard yourselves from every kind of greed; because your true life is not made up of the things you own, no matter how rich you may be."
Luke 12:15
"Truly I tell you, it is hard for someone who is rich to enter the kingdom of heaven."
Matthew 19:23,4, Mark 23-25, Luke 18:24-25
"Sell all your belongings and give the money to the poor. Provide for yourselves purses that don't wear out, and save your riches in heaven, where they will never decrease, because no thief can get to them, and no moth can destroy them."
Luke 12:33
"You say, 'I am rich; I have acquired wealth and do not need a thing.' But you do not realize that you are wretched, pitiful, poor, blind and naked."
Revelation 3:17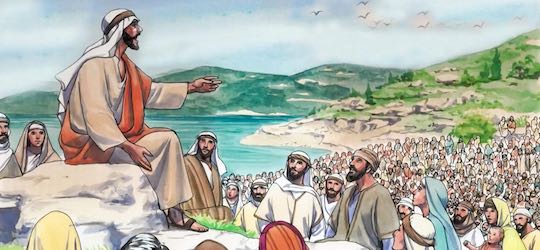 Encouragement for the poor
"Happy are you poor; the Kingdom of God is yours!"
Luke 6:20 (Matthew 5:3 says "spiritually poor".)
"The Spirit of the Lord is upon me, because he has chosen me to bring good news to the poor. He has sent me to proclaim liberty to the captives and recovery of sight to the blind, to set free the oppressed."
Luke 4:18
"Go back and tell John what you have seen and heard: the blind can see, the lame can walk, those who suffer from dreaded skin diseases are made clean, the deaf can hear, the dead are raised to life, and the Good News is preached to the poor."
Luke 7:22
So it is clear that Jesus spoke very strongly against the wealthy and in favour of the poor. It makes us feel uncomfortable, but they are all his teachings.
Nevertheless we have to be careful in applying these teachings. For Jesus' ministry was also supported by several wealthy women (Luke 8:1-3).
We may therefore believe that Jesus' strong statements should be interpreted as overstatements to emphasise his teaching. But however we interpret them, they stand as a strong warning of the perils of seeking wealth, especially if it leaves others poor.
Jesus' brother James got the message!
Jesus' brother James's teaching is so strong, we might mistake him for a Communist if it wasn't in the Bible.
"Listen, my dear friends! God chose the poor people of this world to be rich in faith and to possess the kingdom which he promised to those who love him. But you dishonor the poor! Who are the ones who oppress you and drag you before the judges? The rich!"
James 2:5-6
"And now, you rich people, listen to me! Weep and wail over the miseries that are coming upon you! Your riches have rotted away, and your clothes have been eaten by moths. Your gold and silver are covered with rust, and this rust will be a witness against you and will eat up your flesh like fire. You have piled up riches in these last days. You have not paid any wages to those who work in your fields. Listen to their complaints! The cries of those who gather in your crops have reached the ears of God, the Lord Almighty. Your life here on earth has been full of luxury and pleasure. You have made yourselves fat for the day of slaughter. You have condemned and murdered innocent people, and they do not resist you."
James 5:1-6
Not only …. but also
The rest of the New Testament continues the theme.
Mary in the Magnificat (Luke 1:46-55) says God: "sent the rich away empty".
And Paul warns: "Those who want to get rich fall into temptation and a trap and into many foolish and harmful desires that plunge people into ruin and destruction. For the love of money is the root of all kinds of evil" 1 Timothy 6:9-10
Care for the poor, the suffering and the marginalised
The whole Bible is full of instruction to care for the poor, the suffering and the marginalised.
The prophet Amos spoke over and over against those who oppress the poor. Isaiah did the same, and said God wanted to see his people sharing their food with the hungry and providing the poor wanderer with shelter (Isaiah 58:7).
Jesus echoed this in his famous, and terrifying parable of the sheep and the goats (Matthew 25:31-46), where entering into a joyful or bitter afterlife is based on treatment of the poor and suffering. (Again, this is a parable. But the message is very clear.)
When the apostles welcomed the new convert Saul, they urged him to "remember the poor" (Galatians 2:10). And when an angel opened up a new world to the centurion Cornelius, it was in part recognition of his "gifts to the poor" (Acts 10).
Paul we should aim at equality in resources (2 Corinthians 8:13) and James insisted on equality in treatment (James 2:1-4).

What do we do with all this?
There is a delicate balance here. The Bible teaches God's immeasurable love, his amazing grace, his willingness to forgive and restore. We don't have to try (futilely) to earn our salvation.
But equally strongly, the scriptures make it clear that generous and caring behaviour is required of those of us who follow Jesus. Our faith is dead and useless if we don't (James 2:17).
Am I over-reacting?
I don't think so. In my life, I am probably under-reacting. These things are difficult.
So, was Jesus a socialist?
I'll leave you to be the judge.
But let's remember that caring for the poor, being wary of wealth, seeking equality and seeking first the kingdom were christian virtues long before socialists took some of them up.
What I'm not saying
I'm not saying how we should vote, and what government programs we should support.
I am saying that christians should take these teachings of Jesus seriously and apply them in our lives, including how we vote, and in deciding our priorities.
Listen
For the same teaching in a different form, listen to the Alpha Band's Rich Man. I became a fan of the Alpha Band after the three musicians toured with Bob Dylan's Rolling Thunder Revue back in 1975/76.
Graphics: Free Bible Images