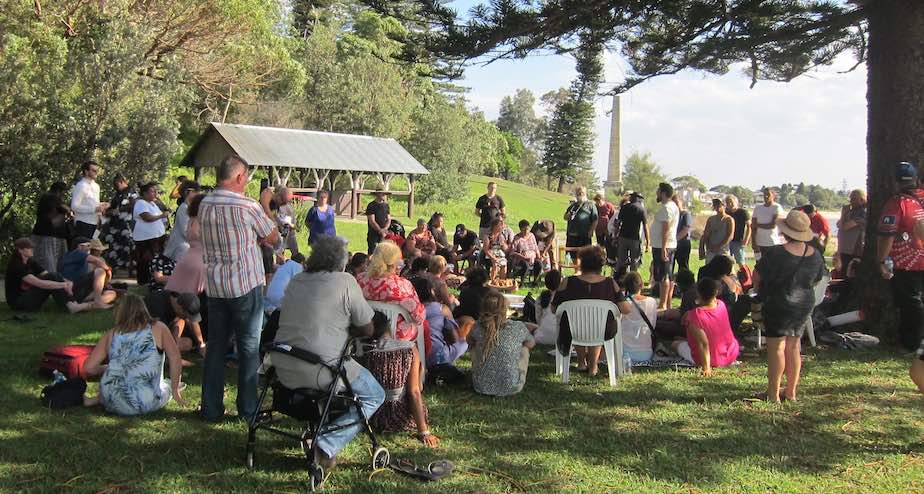 Grasstree Gathering
Australia's indigenous peoples form a small minority (2.8%) in the country they once had to themselves, and have suffered significantly since white colonisation (which can reasonably be seen as an invasion). About three quarters identify as christian.
They tend to be a spiritual people, but it can be difficult for them to meet with other indigenous christians, because of their small numbers and often remote locations. Grasstree Gathering was organised to offer this opportunity.
Grasstree was held in Sydney this past week. 85 indigenous christian leaders and potential leaders attended for several days, some leaving their remote community for the first time. Non-indigenous christians were invited to support the Gathering in several ways, including attending several of the events.
We were privileged to attend, and meet many of the delegates.
Symposium
A full day symposium was held to inform white Australians like me about indigenous culture and viewpoints.
Aboriginal christians see their indigenous spirituality as consistent with the christianity they now believe, and one theme of the symposium was correcting what they see as a wrong impression among non-indigenous christians that their traditional spirituality is pagan or worse. They believe, I think with some justification, that they have a lot to offer the white christian church.
They naturally feel they have in the past been unfairly invaded and mistreated, and since then displaced, marginalised and disrespected. They feel they are still often treated as second class citizens who have to change to adapt to white people's ways that they often feel are not good. It is hard to argue against this, even though it hurts to admit that "my people" have perpetrated injustices and mistreatment.
Even more hurtful is the clear fact that many white Australians simply don't care about the hurts aboriginal peoples have suffered, and still feel, often thinking they should "just get over it". I was asked by one aboriginal leader why I think that there is so little empathy and support even from white christians, was the issue simply too political? I had to say I suspect it is laziness and lack of christian love – for if we care, we will have to do something about it.
The interesting, and sometimes surprising, thing is that the aboriginal christians bear so little malice. Their plea is simply that we non-indigneous christians walk with them. They ask us to be accomplices in making change, helping make a better Australia and a stronger church.
The symposium also addressed aboriginal history, writing, art and education. I learnt a lot, and made a few new friends.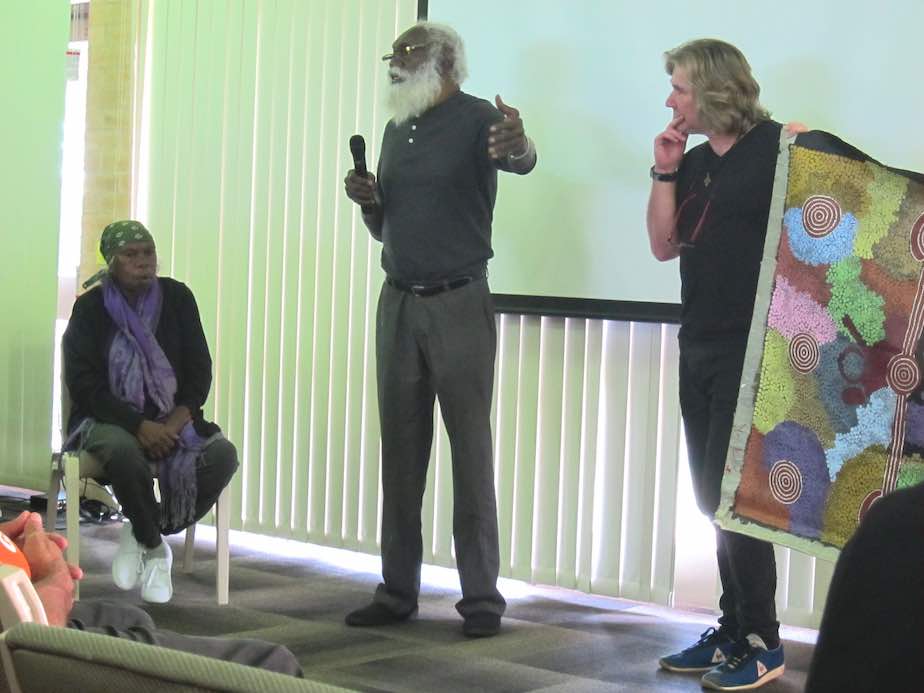 Uncle Rex and his wife Ida, from remote Central Australia are interviewed by Steve Bevis (a white pastor and singer from the same area) about life, spirituality and art.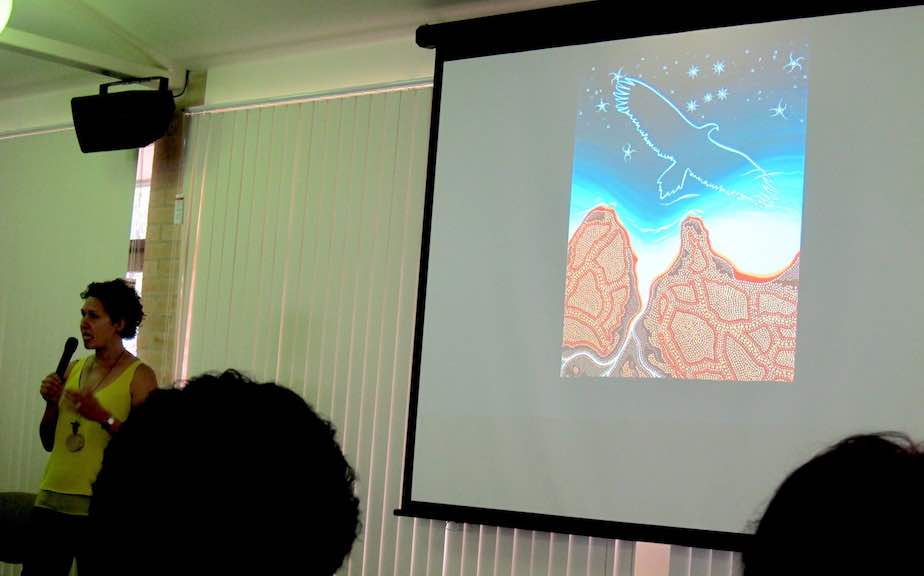 Artist Safina Stewart explains the genesis of one of her artworks.
Prayer gathering
At a previous Grasstree Gathering, Brooke Prentis, who organised this gathering, had a vision of a place she had never visited, where she foresaw aboriginal and non-aboriginal christians gathering together to pray for reconciliation. Almost two years ago, Brooke came to speak at our church, and we took her to Kurnell, where Captain Cook first had dealings with aboriginal people. There she saw the place she had seen in her vision, a significant location in Australian and aboriginal history.
Her vision came to fruition this week as a large group of indigenous and non-indigenous christians (as in the photo at top) came together to pray for unity and to symbolically express solidarity.
It was a deeply moving time for me.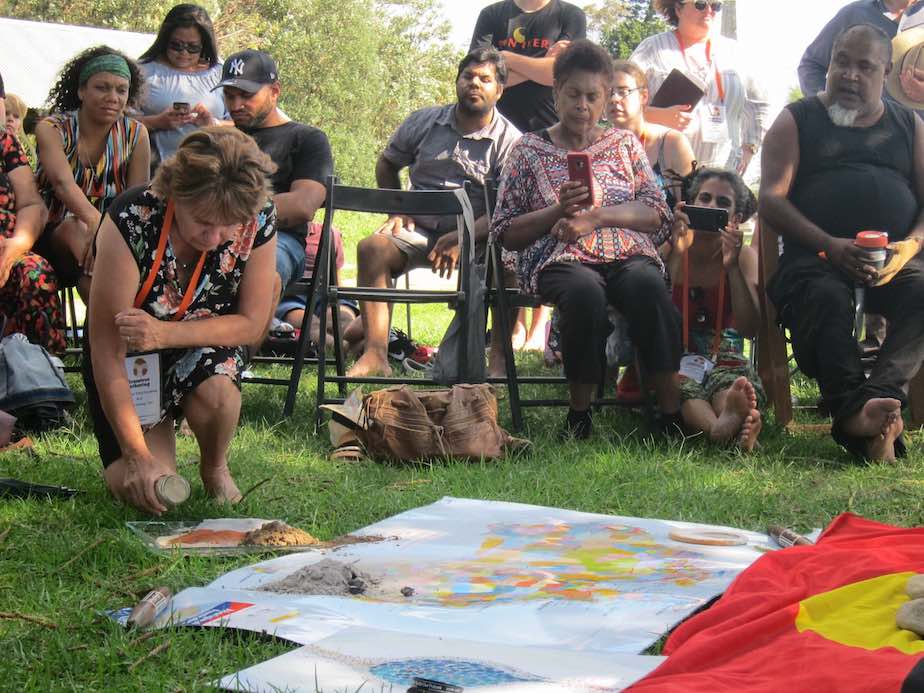 Sand and ashes from places all over Australia were placed on the map of the 300 aboriginal nations, and mixed, to symbolise the unity in diversity of indigenous and non-indigenous christians across this land.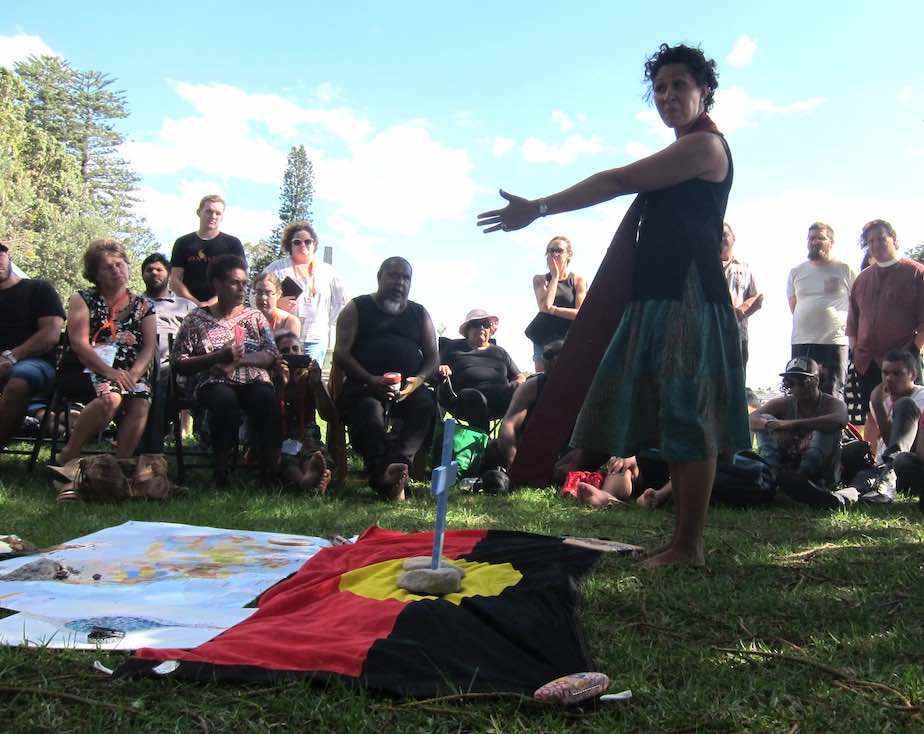 Safina explains the symbolism of the sand and ashes.
Celebration night
This was more of a fun night, as a range of indigenous artists performed song and dance.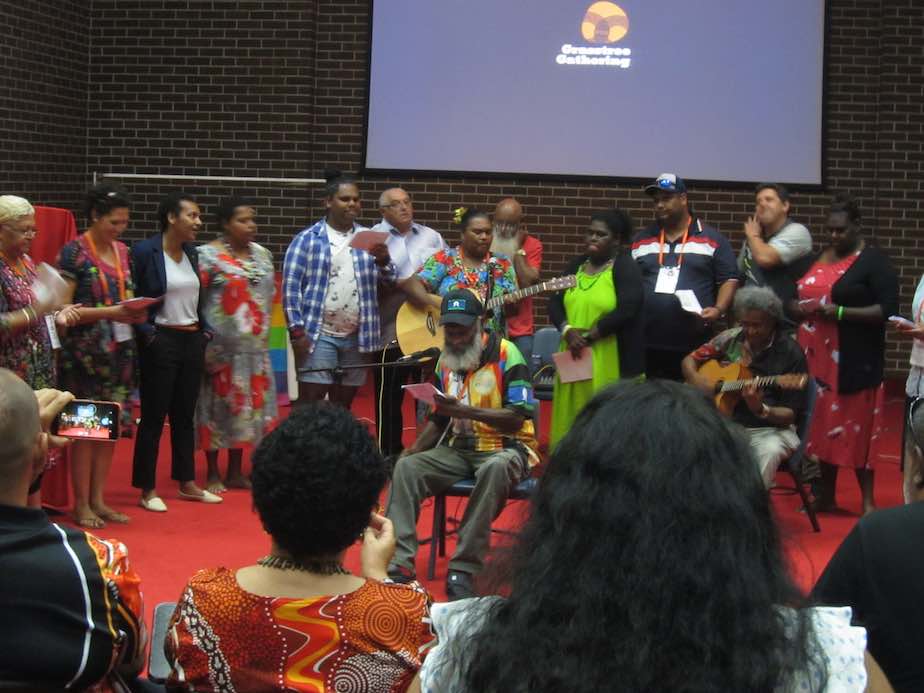 An ad hoc singing group from North Queensland and Torres Strait.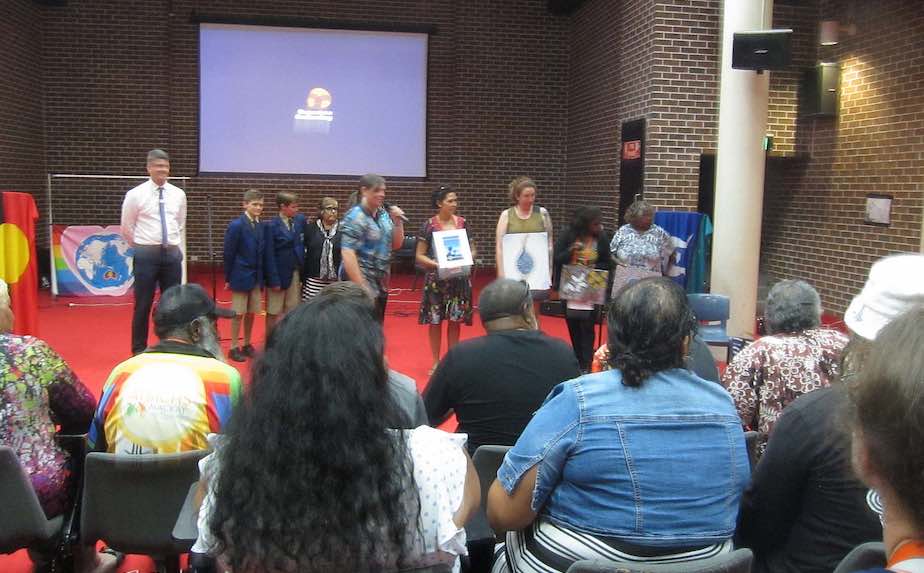 Aboriginal artworks, one of which was presented to the school whose venue was used for the night.
Sightseeing day
The day after the gathering concluded, we led about 30 of the delegates on a sightseeing day around Sydney city and harbour. It was a great opportunity to make some new friends.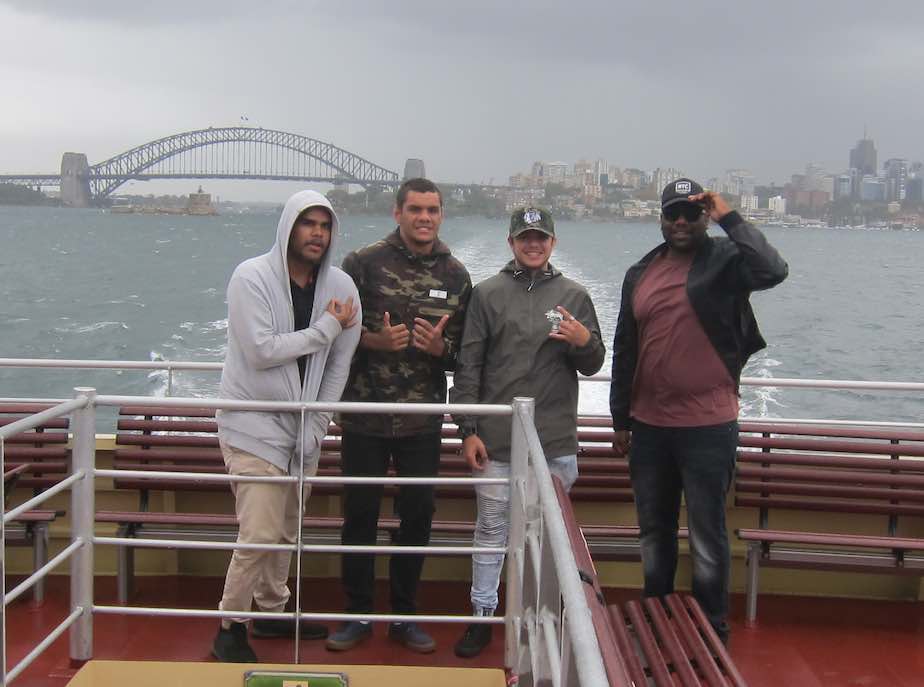 On the ferry.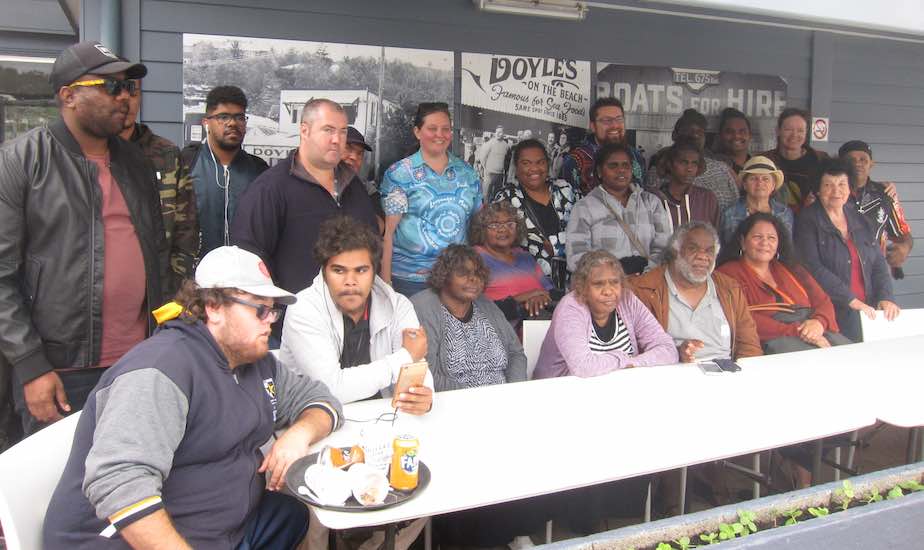 The group after lunch at Watsons Bay.
Reflections
Grasstree 2018 was a great blessing to us. We learnt, shared a small part of the journey, made new friends and gained a new status as "accomplices" in bringing indigenous and non-indigenous christians together. I don't see this as my main mission in life, but I think christian love demands that I respond as best I can.
Aboriginal people have much to offer the Australian church – for example their humour, their sense of community, their laid-back nature, their spirituality and their focus on the essentials of following Jesus.
I hope many Australian christians are willing to journey with them, learn from them, support them and make a better Australia.