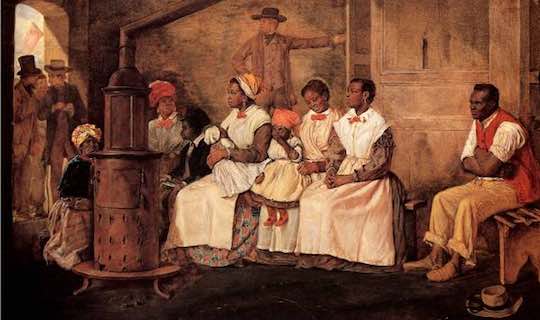 Photo: Slaves Waiting to be sold in Richmond, Virginia, painted in 1861 from an 1853 sketch. Wikipedia.
The world has changed enormously in my lifetime.
One thing that I never knew as a child but which seems to characterise the present age, is international terrorism. Terrorism, via car bomb, motor vehicle driven into crowds, gun or knife seems to be almost a daily event somewhere in the world.
The attacks are rightly condemned. Sometimes they target police or military, or some other target against whom the terrorists have a particular grievance. But so often the victims are random, ordinary citizens who may not even support the government actions the terrorists may be protesting. And the fact that too often these are "innocent victims" makes the condemnation stronger and more powerful.
As a christian who takes Jesus' teachings seriously, I have difficulty justifying any killing of fellow human beings. But I fear we have selective memory about terrorism and innocent victims.
European colonialism and superiority
When I was a boy, I loved my atlas. The map of the world showed so many countries coloured red to indicate the British Empire – Great Britain, India, Canada, Australia, New Zealand, a swathe of countries in Africa from South Africa to Sudan, and other red dots in Asia, Africa and South America. Other European nations – notably France, Spain, Portugal and Netherlands – had their own colonial empires, shown in purple, green, or yellow, but none of them matched the British Empire, which was always shown in red and on which the sun never set. We were so proud of the Empire that we had a half day holiday from school on Empire Day, and every four years we had the Empire Games on similar lines to the Olympics, but restricted to those fortunate countries in the Empire.
No-one asked the indigenous peoples of all these countries whether they wanted to be colonised. Colonisation, for example in the US and Australia, led to loss of land and freedom for indigenous peoples, and sometimes unnecessary deaths – a recent report mapped 150 massacre incidents in eastern Australia alone, with more still expected to be found. Greed and competition led most European countries to take what they could from their colonies – exotic foods and artefacts, natural resources, even slaves. My impression as a child was that the European races were considered superior and colonisation was just the way of things.
Perhaps the British attitude is best summed up by Rudyard Kipling, whose poem or hymn, The Recessional speaks of "lesser breeds without the law" even while warning that the pomp and majesty of the British Empire would one day pass away. And his The White Man's Burden encourages American colonisation of the Philippines as a way of helping the world.
And doubtless colonisation did offer some material advantages to some countries – improved medicine, education, transport infrastructure and sometimes more stable government. Yet because it was involuntary, and because it was so often rapacious, we could hardly blame indigenous patriots for rebelling against colonial rule. I can dimly remember the Mau Mau rebellion in Kenya and the Malay campaign, which were seen by patriotic Australians at the time as unjustified uprisings, but which could now be seen as quite justified attempts to break free from British colonial oppression.
African slavery
Perhaps the most pernicious aspects of colonialism and white superiority was the transport of slaves, mostly from West Africa, to Britain and the Americas. It is estimated that about 26 million Africans were taken as slaves between the 16th and 19th centuries, almost half going across the Atlantic Ocean, but a considerable number remaining in Africa or being sent to Asia. Millions died on the ships, or soon after arrival.
At its peak in 1860, there were at least 4 million slaves in the US. Treatment of slaves was generally appalling, with whippings, shackling, branding, murder and rape, plus deprivation of liberty, discrimination and forced family separations.
War, incursions and assassinations
The twentieth century saw the United States involved in numerous armed conflicts and incursions. The exact number depends on the definition, but some sources nominate more than one per year since 1945, many of them with support from allies such as Australia and Great Britain.
Many of the operations, especially during the "Cold War" were covert. In 2013, US military "special operations forces" were apparently active in combat, special missions or training foreign troops in no less than 134 countries (approximately two thirds of the world's countries).
Particularly insidious has been the assassination of government leaders (plus many unsuccessful attempts) and interference in elections by the CIA.
While it could be argued that some (e.g. the first Gulf war, following Iraq's invasion of Kuwait) or perhaps even many of these actions were justified (though I wouldn't argue that), they have been destructive. Actions often have unintended consequences, including the killing of civilians, euphemistically called "collateral damage".
The biggest disaster of all?
Coming as it did after a century of paternalistic and exploitive interventions in the Middle East by European powers, the US decision to invade Iraq in 2003, supported by a coalition that included Australia and Great Britain, may have been the biggest disaster of them all.
Estimates of the casualties in that war vary greatly, but it seems likely that up to 200,000 non-combatant Iraqis were killed, despite efforts to prevent this, together with maybe another 100,000 combatants. And let us not leave this simply as a statistic. It means, among other things, families, women, children, the elderly, being burnt alive when their homes or shelters were hit by incendiary bombs, or buried under the rubble caused by conventional bombs, or caught in small arms crossfire. Children became orphans, parents saw their children die, families were torn apart, literally.
The war also destabilised the region and created the conditions for the Syria civil war and the rise of ISIS.
Putting things in perspective
In Europe, there were more terrorist deaths in the 1970s and 1980s than since then, mostly from separatist movements in Northern Ireland, Spain and Chechnya. Attacks by Islamists have been predominant since the start of the Iraq war, but have totalled less than 600 in that period (not including 2017).
Terrorist deaths in the US over that period total about 3,000, dominated by the 9/11 attacks. Worldwide, the annual number of deaths due to terrorism has averaged about 20,000, with higher numbers in recent years. The majority of these deaths have not been in the west.
So it is clear that terrorism deaths in the west are dwarfed by the civilian deaths caused by the US and its allies in the Iraq war. US military and covert interference has affected many countries and remains a significant threat to countries not allied with the US.
So how would you feel?
When we next feel threatened by terrorism and call a terrorist barbaric, let's stop and consider that those of us who live in western countries are, directly or indirectly, complicit in government actions that have killed far more people. Perhaps the rash and paternalistic actions of western countries has been a contributing cause of terrorism in return.
That doesn't make Islamist terrorism anything other than evil, immoral and indiscriminate. But perhaps the same adjectives can be levelled at our governments too. I don't think we stand on any moral high ground.
It is important that we christians don't minimise this. I believe Jesus taught us that, in God's eyes, an Iraqi life is as important as yours or mine. It is racist or immensely selfish to think otherwise. All these deaths at the hands of western military forces are surely as much an offence and grief to God as the deaths we see in our own countries.