Well the Barbie movie is out, with much fanfare. Most people seem to love it and think it's fun. But a few are calling it feminist and "woke".
It's not the only thing that is being criticised as "woke" these days. Political correctness is woke. Black Lives Matter is woke. Feminism is woke.
These are all negative uses of the word. But originally (and still with many people) it had a positive connotation.
So should Christians be woke or anti-woke? Is God woke?
A little etymology
The idea of being "woke" seems to have originated with black American folk songer Leadbelly, who advised some black teenagers falsely accused of rape to "stay woke, keep their eyes open."
Over the next decades the word gained other meanings and nuances.
'well-informed' or 'aware',
black Americans gaining greater self awareness,
"alert to social or racial discrimination and injustice",
"a progressive outlook on a host of issues as well as on race",
in the Black Lives Matter Movement, "woke" included the meaning "awareness of police abuses".
Thus "woke" gradually acquired a more specifically leftist or social justice meaning, especially in reaction to former president Donald Trump and his right wing supporters. And so to be "woke" could mean believing that the US was becoming anti-democratic, to be opposed to racism, sexism and white privilege, and to support minorities seen as being oppressed – blacks, the LGBTQI community, the poor, immigrants, etc.
Conservative and right wing politicians and media reacted to all this and turned the word into a pejorative sense. To be "woke" to them was to be anti-American, anti-capitalism, anti-conventional morality, anti-family and to support cancel culture and Marxism. Thus conservatives have opposed teaching on race, feminism, sexism and gender identity in schools and even universities, because these things are "woke".
So is God woke?
Where does God stand on issues of race, inequality, gender and oppression?
The God of Christianity's views can be found in the Bible, although sometimes we need to understand the context before we apply the teachings. Here are some Biblical teachings on these matters:
Jubilee
In the Old Testament, every 50th year was to be Jubilee. In the laws for this time, God showed he cared enough for the poor to ensure they didn't become homeless and landless. Levitus 25:25-28:
"If one of your fellow Israelites becomes poor and sells some of their property ….. what was sold will remain in the possession of the buyer until the Year of Jubilee. It will be returned in the Jubilee, and they can then go back to their property."
Caring for the poor
Another example of God caring for the poor and ensuring that they weren't exploited. Levitus 25: 35-36:
"If any of your fellow Israelites become poor and are unable to support themselves among you, help them as you would a foreigner and stranger, so they can continue to live among you. Do not take interest or any profit from them …."
Stopping long term indebtedness
The poor can easily get into cycles of indebtedness that they cannot escape from, but the Old Testament law aimed to stop this and allow the poor an opportunity to rebuild their lives. Deuteronomy 15:1-2:
"At the end of every seven years you must cancel debts. This is how it is to be done: Every creditor shall cancel any loan they have made to a fellow Israelite. They shall not require payment from anyone among their own people, because the Lord's time for canceling debts has been proclaimed."
Foreigners & refugees
People can easily be xenophobic and fearful of strangers, and unwilling to share their nations' resources with those who enter their land looking for a new life. Exodus 22:21 & Deuteronomy 10:19:
"Do not mistreat an alien or oppress him, for you were aliens in Egypt."
"Therefore love the foreigner"
Advocacy
The prophets emphasised that behind these rules were principles of justice that God wanted us to be committed to. Isaiah 1:17:
"Learn to do right; seek justice.
Defend the oppressed.
Take up the cause of the fatherless;
plead the case of the widow."
We can see that God is portrayed in the Old Testament as having an heart and a strong commitment to justice for the poor, the oppressed, the widowed and the alien living in Israel.
The same values in the New Testament
Not all Old Testament laws apply to non-Jews today, but Jesus and the apostles upheld this emphasis on justice and mercy.
In a parable (Matthew 25:31-46) Jesus commends those who care for the hungry, strangers, the sick and the imprisoned, and said:
"Truly I tell you, whatever you did for one of the least of these brothers and sisters of mine, you did for me."
Jesus condemned the religious people who were meticulous in their religious observance but negelected justice. Matthew 23:23:
"Woe to you, teachers of the law and Pharisees, you hypocrites! …. you have neglected the more important matters of the law—justice, mercy and faithfulness."
And Jesus' brother, James, said our care for those in need was an essential part of our faith. James 2:14-17:
"What good is it, my brothers and sisters, if someone claims to have faith but has no deeds? Can such faith save them? Suppose a brother or a sister is without clothes and daily food. If one of you says to them, "Go in peace; keep warm and well fed," but does nothing about their physical needs, what good is it? In the same way, faith by itself, if it is not accompanied by action, is dead."
It's easiest to ignore ….
These teachings can shock us. Is God a socialist?
We Christians in rich countries find it easier to ignore these teachings than to obey them. We have sophisticated ways to explain the passages away.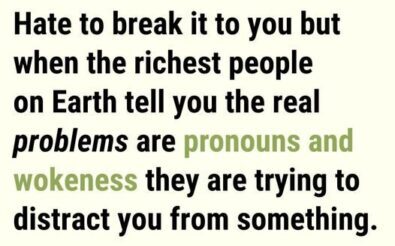 Dismissing a person who cares for racial or economic injustice as "woke" is a more extreme way of doing this. Too many Christians choose to follow ideologies that allow and encourage this. Even the imperative to offer faith and hope to others is sometimes used to negate these sayings, by calling them the "social gospel".
Of course it is difficult if not impossible in our modern societies to live exactly as was commanded in the Old Testament, which was a very different culture, time and place. But no-one who calls themselves a follower of Jesus can totally ignore these strong teachings.
So is God woke?
It seems he is, at least according to the most common use of the word. It seems he really does care for the poor, the refugee, the person of a different race, the women (especially widows). It seems he really expects us to put care of others before personal gain.
It seems God expects us to be woke!
Photo: Jennifer Boyer on Flickr.
Related Posts