Book review: Coming Home by Jonathan Cornford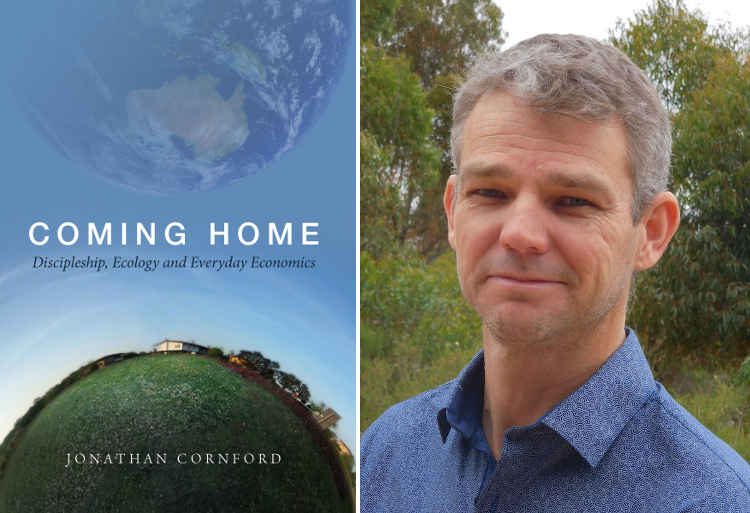 I heard Jonathan Cornford speak at a conference a couple of years ago, and he was one of the most interesting and challenging speakers I have ever heard. So when I saw this book published earlier this year, I quickly bought it.
It didn't disappoint.
Jonathan Cornford
Jonathan has packed some interesting work and experiences into his life. He has a PhD degree in political economy, and his wife Kim has an honours degree in Economics, and Diplomas in Sustainability and Conservation and Land Management.
They have worked together on research and advocacy on development issues in Laos and Cambodia, with a focus on the links between economic sand ecology. And they have worked helping the homeless and drug dependent in Melbourne, Australia.
They have explored how christians should live in affluent societies, leading to the establishment in 2009 of Manna Gum, an independent non-profit organisation aimed at living out Biblical teaching on wealth and affluence and promoting a better understanding of the impact of our economic choices on others and the world.
Oh, and they are christians, and part of a christian community in the rural city of Bendigo in Victoria.
Coming Home
This small (167 pages) book aims to "make a real and practical connection between faith, the way we live, and the great ethical and environmental challenges of our time" by examining 7 issues relating to practical household economy. The issues covered are:
hospitality
work & leisure
consumption
sustainability
giving
savings & investment
debt
Each chapter contains three sections:
What's the problem? – a brief outline of the social, ethical and spiritual issues related to the subject.
What does the Bible say?
How might we respond? – a very practical and achievable outline of simple and profound ways that we might respond as christians, ending with a brief list of examples of steps people have taken.
Things to like, things to challenge
There are many things I really appreciated about this book:
It is short and succinct.
Johnathan writes knowledgeably about economic and social issues, and gives good social and Biblical background to each issue.
The suggestions are simple and practical, and don't require a total rejection of modern western culture.
The practical suggestions are effectively tied into a strong biblical ethic of joining God in seeing his kingdom come on earth as in heaven.
Nevertheless, this book presents a deep challenge to me as an average but nevertheless affluent christian living in an affluent society.
Many of us have been raised to value financial security, and to give to "good causes" what we can afford after we are on the road to financial security. But Jesus spoke a lot about money, wealth and greed, and most of what he said challenges that ethos.
Johnathan picks up these themes, and unlike so many affluent western christians, takes them seriously. If I take this book to heart, my life will have to change.
Ways to live
Some examples of Jonathan's suggestions (one out of about ten suggestions in each chapter):
Set aside one night a week when you share a meal with others (hospitality).
Undertake a time audit (how exactly are you spending your time?) and use this as a tool to reflect on how you choose to spend your time (work & leisure).
Commit to knowing and buying ethically sourced clothing and groceries, especially chocolate, coffee and tea (consumption).
Switch to green power (sustainability).
Commit to giving away a specific percentage of your annual income and develop a giving plan (giving).
Switch savings, superannuation and investment into ethical funds and socially responsible banks (savings & investment).
If you are thinking about buying a house, think carefully about size, quality and location and ways you may reduce the cost and hence your mortgage (debt).
Some of his suggestions are simple and achievable, and you may already be doing some of them. Others present a much bigger challenge to our trust in God and our commitment to the way of Jesus. There are some I don't think I am ready for yet, but I feel starting small and implementing these ideas gradually would make it more likely I could manage it.
Jonathan suggests that beginning this new way of living more frugally and in accordance with Jesus' teachings has three merits:
It is what the Bible calls "righteousness" – living in a way that is just and loving, and integrates what we believe, what we hope for and how we act.
It frees up our lives and helps us see more clearly, thus allowing us to better discern the will of God.
Living well in an age of bad living bears witness to the good new we want to share with the world.
Walk by the Spirit
The book contains many practical suggestions, but Jonathan stresses at the end that we need to be clear about the principles and the spirit that motivate us.
Take the challenge
Take the challenge, get the book from Manna Gum. I recommend it whole-heartedly.
It will be a challenge to live the way Jonathan sets out, but I think if we are going to live justly, and follow Jesus, we are going to have to take at least some of these steps.
The world needs it. The kingdom of God is waiting for it.