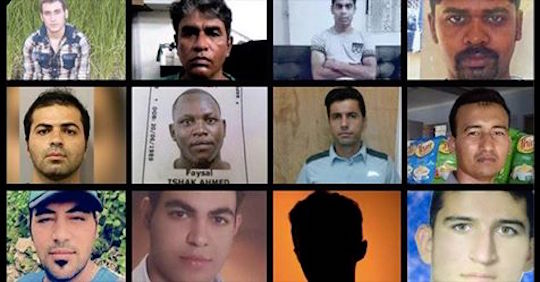 Last week Fariborz Karami committed suicide. And I don't think many Australians noticed.
He was just 26 years old, and he had been held behind bars for 5 years without any hope of safe release. His mental health had been deteriorating for years.
But I don't think many Australians cared.
Worse still, I don't think many christians cared.
Fariborz Karami's story
Karami's story is told in this Guardian article (Deaths in offshore detention: the faces of the people who have died in Australia's care). He grew up as a "member of Iran's Kurdish ethnic minority, which faces systematic persecution in that country, he had been kidnapped as a 10-year-old boy and held for three months, threatened every day he would be killed."
Five years ago he sought asylum in Australia, but his claim for protection wasn't recognised, and he, his wife, mother and brother have been held in off-shore detention ever since.
It had been obvious for several years that his mental health was deteriorating. Over and again he sought psychiatric help, and psychiatrists said he was "severely traumatised". But as his time in detention stretched on with no real hope of re-settlement, he sank into despair and depression, became suicidal, and eventually took his own life in his tent at the Manus Island detention Centre.
Twelve tragic deaths
Karami's death makes a dozen men, seeking refuge, who have died in Australia's detention centres. Three have suicided, others have been murdered, died from accidents or illnesses, some from medical neglect.
It's not a simple problem
There are apparently 68 million displaced people in the world today, almost three times Australia's population. About a third of these are refugees, and about 3 million these are actively seeking asylum in another country at any time. Australia receives only a small percentage of these asylum-seekers.
Knowing how to respond to this crisis is an intractable problem. No country wants to be swamped with poor immigrants who may strain infrastructure, resources or public tolerance.
When a previous Australian Government humanised its procedures for dealing with those seeking asylum, the numbers of those seeking asylum rose dramatically. Since Australia toughened its rules, the numbers have dropped.
So no-one, certainly not me, thinks there are easy solutions to the problem.
Tough decisions may have to be made. Innovative solutions may be required.
But here I want to talk about attitudes.
Acting tough
Australia's policy has been to be tough on those seeking asylum to discourage others from making the unsafe journey by boat and landing on our shores, asking us to act in conformity with the UN refugee convention which requires us to give protection to those with legitimate fears of persecution, and not to treat them badly.
Instead, Australia has breached several of the requirements of the convention by refusing the pleas of genuine refugees, keeping them in indefinite detention, and effectively expelling them from Australia by placing them in detention centres in other countries.
This is often presented as "being tough on people smugglers", when in reality it is being tough on traumatised human beings like poor Karami. As one former detention centre manager used to say, his job was to make the camp a worse place to be than where the refugees had come from. (He resigned as a result.)
So it has become a political necessity to present a "tough" stance on refugees, first to please the right wing commentators and newspapers, but also to present an unmoving and unrelenting image to the electors.
For example, another asylum seeker is dying of cancer (Dying Nauru refugee speaks out as Muslim leaders plead for transfer), Australia refuses to provide him with palliative care in Australia, despite pleas by 2000 doctors and many othewrs, but prefers him to die with less care in detention. This is just one in a line of many similar cases of mentally and physically ill detainees being refused humane treatment.
So even when tragic events happen, like the murder of Reza Barati in 2014, the trauma experienced by children in detention, or the suicide of Karami, politicians and sympathetic media present a tough image, showing no remorse, no sadness, about the people so badly affected by our detention policy of neglect.
This deeply disturbs me.
Jesus said ….
It isn't lost on those wanting Australia to adopt a more humane stance that Jesus had some very clear statements on how we treat people, including: "As much as you cared for (or didn't care for) these people in need, you did it to me" (Matthew 25:31-46, my paraphrase).
And so christians who support the tough stance on deterring requests for asylum via inhumane treatment face a difficulty. Practical politics (or is it just the selfishness of the privileged?) says to be tough, but Jesus says to be loving and caring.
Have we really fallen this far?
Whatever political solution we believe is "right", we are still required by Jesus to be compassionate. But our Government, including the last two parliamentarians charged with the responsibility of dealing with refugees who claim to be christians, shows no compassion, no regret, no humanity. They have to act tough or they will be seen as weak.
And here's what gets to me.
So many christians are following their lead, and showing no compassion, no humanity. Instead of seeing these poor people as victims of oppression and even genocide (sometimes sparked by wars and policies that we instigated) who we should want to care for, even if we cannot, they see them as threats to our privileged way of life and therefore not deserving of being treated humanely.
And so christians who claim to follow Jesus have learnt to be inhumane, to lack any semblance of compassion. Somehow even the very worst behaviour is acceptable.
Have we really fallen this far?
Surely we should be in tears for these poor victims, even if we think we have no recourse but to have tough policies. Does Jesus not weep again?
May God have mercy on us all.
Top graphic: The faces of 12 asylum seekers who have died while in Australian immigration detention outside Australia in the past 5 years (graphic from the Guardian). Fariborz Karami is in the top left corner, Reza Barati at the bottom right.
Photo of Fariborz Karami from the Supporting Asylum Seekers Sydney Facebook page