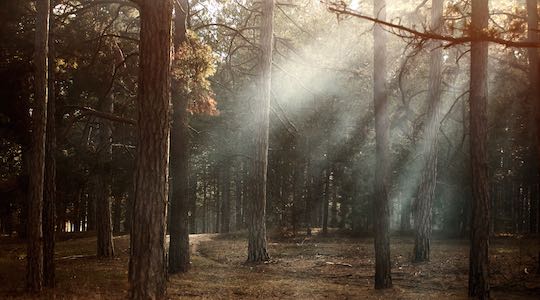 My (internet) friend Nate has a blog, Finding Truth which I regularly read. We disagree profoundly because Nate is an atheist and former christian, while I still follow Jesus. So we cross swords occasionally, often disagreeing (amicably) with the approach the other takes to questions, evidence and arguments. He is gracious enough to welcome my critical comments, just as I welcome his here.
His latest post is The Light Given, and my disagreement is deep enough to make it difficult to express it in a comment on his blog, so I am commenting here, in the spirit of friendly disagreement and (perhaps) discussion.
The essence of Nate's argument
I hope I have got this right. Nate is discussing the question of what christians think happens to those who end their life never have had the opportunity to believe in Jesus, especially those who came before Jesus lived. He notes that many christians believe these people will be judged according to "the light they have been given", but argues this doesn't, in the end, make sense.
Nate draws this conclusion after some serious Biblical analysis:
The idea (though not the words) of "the light given" comes from Romans 2:9-16, where Paul says the Gentiles will be judged according to God's law written on their hearts (presumably their consciences), which means they will sometimes be judged favourably and sometimes unfavourably.
The context of Romans 2 is that Paul is discussing how neither Jew nor Gentile were in a favourable position with God before Jesus came – both needed Jesus. But Romans 2 no longer applies, Nate argues, now Jesus has come. So what about those who haven't heard of Jesus, how will God treat them now?
Nate then references a number of passages that indicate that people must believe in Jesus or be condemned (John 3:18 & 36), without faith it is impossible to please God (Hebrews 11:6), all must now repent (Acts 17:30), because Jesus is the only way to God (John 14:6).
So, Nate concludes, it is hard to make a scriptural case for applying the "light given" concept to the present day.
So many points of disagreement
This is an interesting argument, and I am pleased that Nate is considering questions like this. But I have so many areas of disagreement with the argument, which I think is based on a number of misunderstandings about those who use the "light given" argument.
1. Is this really an argument against God?
Nate says: "the way the Bible deals with it [the enough light concept] throws even more doubt onto Christianity". But if God exists, we would expect there to be things about him that we don't fully understand. So the fact that Nate doesn't understand something about God is hardly a strong argument against christianity.
The questions of God's existence and christianity's truth must be settled on much larger grounds than this. If they are settled (as I believe) strongly in favour of christianity, then this matter becomes (at most) one of the things we find puzzling. If they are settled (as Nate thinks) in favour of atheism, why even bother with adding this small argument?
But while I don't think it is at all an argument against God, I think it is still a question worth exploring.
2. Different folks, different strokes
Nate starts with a concept that I'm not sure if many conservative christians accept – that people who don't explicitly believe in Jesus may nevertheless, on the basis of Romans 2, find favour with God. So we are dealing with an argument that is mostly propounded by more "progressive" christians. But then he uses concepts (discussed below) that are conservative, not progressive, to critique this argument.
This is not reasonable. To show an inconsistency in christianity, he must use arguments and concepts that are held by the same person. He has tried to show that a conservative interpretation doesn't support a progressive argument – which is hardly news! 🙂
3. Does christianity's authority come primarily from written texts?
Nate suggests this is so, but it is only really the case with some forms of christianity, admittedly the conservative form Nate is most familiar with. But other forms of christianity recognise the authoritative role of reason and evidence, church teaching and tradition, and the Holy Spirit.
Overlooking the role of the Spirit of God is significant, for it changes the basis of the argument. If, as most christians believe, God is active all over the world through his Spirit, then people do indeed have the opportunity to respond to God in the way Romans 2 envisages, through the ministry of the Holy Spirit, rather than not having the opportunity as Nate suggests.
4. What does "repent" mean?
For Nate, apparently, this is the final nail in the coffin of the "light given" argument. Regardless of how Romans 2 may have applied in the past, Nate argues, going forward God requires everyone to repent, and that means he is no longer leaving "the Gentiles to their own devices".
The meaning of "repent" is sometimes debated. The Greek word is metanoia, which literally means "a change of mind" or "a change of thinking". NT Wright says repentance is the realisation of "how far we have fallen short of what we were made to be", a realisation that leads to "a serious turning away from patterns of life which deface and distort our genuine humanness".
Now I don't think it can be seriously doubted that all people – christian, atheist or anything else – can do this, and at times need to make ethical decisions like this. Perhaps God judges at least some non-believers this way? And so Paul's argument is not at all inconsistent, but makes God's attitude the same now as it was back then.
5. Why does God ask for faith?
Nate quotes Hebrews on the necessity of faith, and suggests this is a "hard and fast rule". Leaving aside that the New Testament several times suggests we no longer live by hard and fast rules, but by being led by the Spirit, I wonder why atheists like Nate think that God requires faith?
It sometimes seems that non-believers think that faith is a virtue in itself, and God judges us on whether we have that virtue. I think this is a misunderstanding. God is the goal of human life, but it is true that to seek God, we must at least believe (as Hebrews says), or at least hope, that God "exists and that he rewards those who seek him". So faith isn't the goal but the means.
We need to distinguish between knowing God now and knowing him in the age to come. If we have faith in God, we can receive from God here and now, and in the age to come. If we have disbelief we will find it much harder to receive from God. And of course if someone knows nothing about God, then they will be in a similar situation in this life – with the difference that acting on their conscience may still allow those who haven't heard the good news to please God and receive life in the age to come. Those who have heard the good news but disbelieve have less hope of life in the age to come. (I have chosen to express these concepts in terms of probabilities rather than certainties because I am not God and I cannot say how he will judge any person.)
6. John 3
Does John 3 negate the "light given" argument, with its talk of being judged for our unbelief? I don't think so, for two reasons.
I guess it all depends on the meaning of "not believing" – does it mean lack of belief because of lack of knowledge, or active disbelief. I think the latter. And I think John shows his support for the "light given" argument when he writes: "people loved the darkness rather than the light because their works were evil". The same passage that mentions lack of belief also talks about a lack of turning away from evil (= repentance). Both are given as reasons for not finding favour with God, and this makes most sense when we see that the lack of belief refers to those who have heard of Jesus and failure to turn away from evil refers to everyone, especially those who haven't heard.
Later John reinforces this by saying those who disobey the Son will not see life. And it isn't hard to find what Jesus calls us to obey – to love God wholeheartedly and to love our neighbour (Matthew 22:38-39), and he backs this up with many examples of the behaviour he approves of, in the parables of the Good Samaritan (Luke 10:25-37) and the Sheep and the Goats (Matthew 25:31-46), and in the Sermon on the Mount (Matthew 5-7).
I think John 3 reinforces the argument. We will be judged by how we respond to what we should know, and how we respond will often depend on what we believe or disbelieve.
7. Only through Jesus
John 14:6 is one of the starkest statements in the Bible, and Nate is right to draw attention to it: Jesus said to him, "I am the way, and the truth, and the life. No one comes to the Father except through me."
I agree with this statement, but I don't agree with the way it is often interpreted. Jesus said he was the only way to God, but he doesn't say that someone absolutely has to have conscious and personal faith in him to receive God's approval. It is possible to receive the benefits of something without fully recognising it.
It may seem that this is straw-splitting, but two Biblical truths support this idea.
As we have already seen, Romans 2 says that those who have never heard of Jesus can be "saved". And in Acts 17:27 (the same speech Nate has referred to), Paul says that God had set things up so that Gentiles "would seek him and perhaps reach out for him and find him". So again the opportunity is there.
It is obvious that the Bible assumes that many in the Old Testament found favour with God, yet none of them had heard of Jesus either.
So while the Bible teaches that Jesus death was in some mysterious way necessary to rescue people from evil, there is also clear teaching that some people can be rescued without actually knowing about him.
Not everything is clear
I would be the first to admit that not everything is clear in all this. But that lack of clarity works both ways.
For those who believe the evidence points to the existence of God and the truth of Jesus, this lack of certainty is not troubling. We don't expect to understand everything, and we have clear enough instructions on the things we should be doing. So, if we are obedient, we get on with doing those things. If only we would all do this, and all do it better than we do!
But for those who don't believe, he lack of clarity weakens the argument, for if we tried to state the argument formally, we'd have to make all premises reflect that uncertainty. This makes the argument a red herring. Unbelievers have bigger fish to fry! (That bad pun crept up on me unawares!)
But I think this argument is also dangerous. Unbelief is a response to the evidence as we see it (belief is likewise). But people can distort the evidence either way by focusing on one side or other of any argument, and by giving greater weight to weaker arguments than they deserve. Focusing on a minor argument while lacking answers for much more important arguments can easily give a false sense of the balance of probabilities. In that sense we may have chosen our belief or unbelief by what we choose to focus on.
Photo: Pexels