Monthly challenge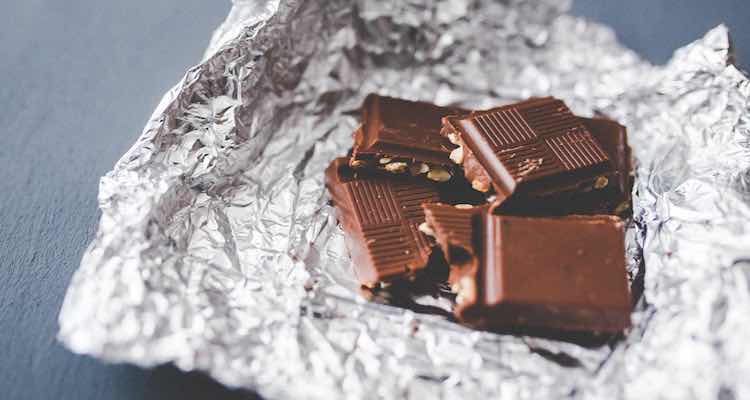 November challenge
It's not such a hard challenge, really. Eating chocolate I mean.
But the good news is that it's also not so hard to eat "good" (i.e. ethical) chocolate these days.
If you don't want to be complicit in slavery, child labour, poor working conditions for poor workers or unsustainable practices (and I'm sure you don't!), then be discerning in the chocolate you buy.
Finding ethical chocolate
The best way to find ethical chocolate is to look for a certification logo. Fair Trade is probably the best, but UTZ and Rainforest Alliance are also good. Chocolate showing one of these logos is certified by that organisation to be ethically sourced.

Once the only way to get ethical, certified chocolate was to buy a specialty brand, but now most supermarkets carry several small ethical brands plus some certified chocolate from the mainstream suppliers.
The public demand for ethically-sourced chocolate seems to have been effective, for now most of the major chocolate brands have programs that are leading to more ethical practices by their suppliers. None of them are fully ethical and sustainable, but many are well on their way and aim to be fully sustainable within a year or two.
The Australian anti-slavery organisation Be Slavery Free (formerly Stop the Traffik) has assessed the traceability, transparency and accountability, child labour monitoring and remediation, community investment, community participation, access to education, women's empowerment and living income of all major supply chains.
On this assessment, Ferrero, Hershey and Lindt & Sprüngli ("Cocoa Farming Program") seem to be doing the best, while Mars, Mondelēz ("Cocoa Life") and Nestlé ("Cocoa Plan") are not so far down the path. (I should also give an honourable mention to the smaller company, Tony's Chocolonely, which is 100% sustainable.)
So armed with this up-to-date information, you can enjoy your chocolate with a good conscience. And maybe you won't need to stop at a month, but just keep going!
Check out the Be Slavery Free report, A Matter of Taste, to see the ratings and read the latest on working conditions on cocoa plantations and the efforts to bring justice to the workers.
Photo by Kaboompics .com from Pexels