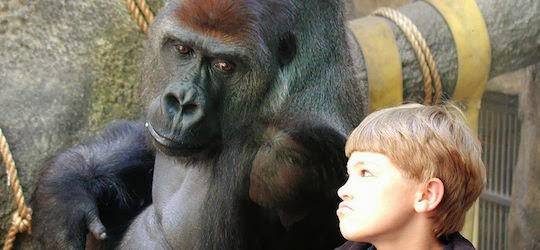 Why I think this subject is important ….
Scientists have pretty much demonstrated that human beings are the product of evolution. One consequence of that conclusion is that many scientists now think that humans are no more than intelligent and better adapted animals. This belief can lead to thinking we have no free will and there is no objective right or wrong.
As christians, we think humans are more than just smart animals. If we want our conclusions to stand up and be believable in this modern scientific world, we need to have some understanding of the findings of neuroscience and evolutionary biology. The differences between animals and humans is part of this.
This post follows on from If evolution is true, how can free will and consciousness be explained? and How God changes your brain.
Some differences are obvious
There are obvious physical differences – humans walk upright, have a different hand structure that facilitates the use of complex tools, we wear clothing, etc. Only slightly less obvious are the mental and cultural or "spiritual" differences – humans are more intelligent, we use sophisticated languages, we have religion and technology.
One less obvious physical difference is in the make-up of our cells. Humans have a different molecule on the surface of our cells which makes us susceptible to quite different diseases than animals.
But the experts say these are not the crucial differences.
Three major differences
The differences experts have found between humans and animals can be summed up in three human characteristics, which animals either don't have, or have in only a rudimentary form.
Abstract thought
Abstract thought is the contemplation of things beyond what we can sense. Animals can learn to link an effect with a physical cause. But humans can think of more abstract concepts, such as the idea of the future, and can construct mental images or symbols to help us think about both physical and imagined realities. We tell stories, we can imagine alternative scenarios, and we have developed art. We can contemplate the past and the future in ways that (apparently) animals do not.
Because of this, humans are able to understand what other people are thinking and what they think is true, and so discern their intentions and goals, just by observing. Animals, even the "higher" animals like chimps, are unable to do this.
It also gives us the ability to ponder the meaning of life, where we came from and where we are going. Symbolic thinking is necessary for religious belief.
Communication
Animals can communicate, but in far less sophisticated ways than humans. But because of our ability to think in symbolic ways, humans have highly developed complex languages capable of expresses abstract ideas. Language is the outward expression of our symbolic ability, and through language we can reason logically and mathematically.
Cooperation and altruism
Language and other forms of communication are vital for human progress. We humans love to communicate ideas, and build on the ideas of others. This, together with our ability to imagine, allows us to take advantage of others' experiences and ideas guide our own behaviour and thinking. Most of our modern life – science, technology, the arts, religion, forward planning, etc – depend on this ability to build a huge network of collective knowledge and act prudently on that basis.
Animals sometimes cooperate and sometimes show altruism, but humans have a greater capability here (though also greater capacity to do evil). Chimps will cooperate, but humans are more likely to cooperate even when there is little to be gained for ourselves.
All this goes with having different brains
Our brains and these abilities evolved together. So human brains are not just larger than the brains of animals of comparable physical size, but they are structured differently. The human brain has a greater number of connections in a given volume, and the human cerebral cortex or association cortex, especially the frontal lobe, are much more developed in humans than in animals. These areas are associated with many of our "higher" brain functions.
But more surprising is the fact that our brains are changed physically depending on our emotions and what we think about – this is known as neuroplasticity. Neuroscientists Andrew Newberg and Mark Waldman write: "evolution gave us a nervous system that actively participates in its own neural construction, something we do not see in other animal brains."
Where does God fit in?
So it seems we are very different to animals, not just smarter. Professor Terrence Deacon, a neuroanthropologist, says:
"We think differently from all the other creatures on earth, and we can share those thoughts with one another in ways that no other species even approaches …. We alone brood about what didn't happen, and spend a large part of each day musing about the way things could have been if events had transpired differently. …. No other species on earth seems able to follow us into the miraculous place."
It may be that all this is explicable as natural processes. But it seems to me that it all fits with the view that God used evolution to create a human race capable of free choice, rational thought and forethought, ethics and altruism. In a sense, beings who are both physical and made in God's image.
It seems clear that we couldn't apprehend God, or believe in him, or aim to please him by living as he wants, without these characteristics.
References
Photo: MorgueFile