Today is 26 January, Australia Day.
Australia Day is a national public holiday, commemorating the beginning of the nation of Australia when Captain Arthur Phillip began a British penal colony on the shores of Sydney Harbour on January 26, 1788.
Australia Day has become for most Australians the end of a summer holiday season that began at Christmas – a day of eating and drinking, celebrating, activities, flags and an Aussie brand of patriotism.
But the story isn't all that glorious
For Australia's indigenous peoples, there isn't much to celebrate. For something like 60,000 years, they had a stable society of something like 500 nations, each with their own culture, rituals and stories.
January 1788 was the beginning of the end of all that.
The Sydney colony was set up to allow Britain to send away felons that were overflowing their prisons – often impoverished people who were pushed by poverty and inequality to steal of make a living in illegal ways. The initial colonists were mostly either convicts or military, probably not the most likely people to be sensitive to the needs of the indigenous people.
And so it proved.
Stolen lives, stolen wages, stolen children, stolen land
The atrocities, indignities and illegalities committed on the indigenous peoples make a depressing list, and include genocide and murder, imprisonment and slavery, unjust working conditions (i.e. not being paid), being moved off country to forced settlements, having children removed from families (supposedly to protect the children, but mostly to try to eliminate Aboriginal culture), marginalisation, racism, high rates of incarceration and too many deaths in custody.
Of course there are two sides to every story, but it remains true that Aboriginal people treated the invading Europeans better than they were treated themselves, and most of their warlike acts were simply defending their country.
And it also remains true that the prosperity of modern day Australia is built on this litany of stolen lives, stolen wages, stolen children and stolen land.
As an Australian of European descent, I cannot help feeling sorry and ashamed about this history, much of which I believe can be clearly seen as wrong and evil. Enough to feel that our nation's treatment of Aboriginal peoples needs to be more sensitive and compassionate.
And one way to show sensitivity and compassion relates to our choice of January 26, which many Aboriginal people see as "Invasion Day", as our national holiday. We haven't always celebrated on January 26, and it would cost us nothing to change it.
Not everyone sees it this way
But there are many in Australia, from politicians down to the person in the street who feel that mistreatment is all in the past, Aboriginal peoples should just get on with life, they say, but life on our terms, not theirs. And they don't want to give up their January 26 Australia Day holiday, though their reasons seem to be more based on pride and obstinacy than any admirable reason.
Many christians feel the same way. They feel that acknowledgment of country – a public recognition of the past occupation and custodianship of a particular Aboriginal nation, a reflection of the traditional Aboriginal practice of formally welcoming visitors to country – is "tokenistic". And they certainly don't want to acknowledge the hurts and injustices that the church has participated in.
Power and privilege
I am a very privileged Australian. I am white, male, middle class and with a university education. From the time I left school until I retired, I was never unemployed. I have never been rich, and plenty of people have had materially better lives, but I am nevertheless privileged for so many reasons.
People like me need to understand that our privilege brings significant power to control our own lives, but it is often built on the back of disempowerment of others. Privilege is not something I deserved more than other people, I was just fortunate in my place and time of birth, and my ethnicity.
Jesus and the apostles make it clear that privilege and power bring responsibility to care for those who are less privileged and less empowered. Jesus said:
"The kings of the Gentiles lord it over them ….. But you are not to be like that. ….. the one who rules [should be] like the one who serves." (Luke 22:25-6)
"The Spirit of the Lord is on me ….. he has anointed me ….. to set the oppressed free" (Luke 4:18)
We christians need to take those commands seriously, and learn to "weep with those who weep" (Romans 12:15).
We need to learn
It is too easy to forget our privilege and be insensitive to others who are struggling.
Aboriginal peoples
Whatever we think about the history of our nation's treatment of indigenous peoples, we surely can and should recognise that many of our fellow Australians, many of our indigenous brother and sister followers of Jesus, are feeling hurt by the history of their people, by their continued marginalisation, and by the choice of Invasion Day as our national day of celebration. You can see their point.
There are probably many countries where some of these same priciples and response apply.
If we want to weep with those who weep, we will be sensitive to these hurts.
Women and domestic abuse
Relationships aren't always happy, and both men and women can end up scarred. The scars are deeper when there is physical, sexual or emotional abuse involved, and the victim is most likely the woman. These situations can leave women very sensitive to what appear to be domineering men. And christian men can be insensitive to this. Sometimes they don't recognise the hurt a woman is feeling. Some times they say things that feel hurtful to the woman. Sometimes, if they hold a belief that women should come under male authority, than can be especially hurtful.
Men need to learn to weep with women who weep, even if we can never fully understand how they are feeling.
Others who weep
Gays and lesbians, people with disabilities, immigrants, the poor, those suffering with a mental illness, people who have been bullied ….. and doubtless many more – all can feel shut out and shut down by those of us who are part of the dominant culture. We may not intend it, but it can happen.
Being part of the dominant culture gives us great privilege, but also great responsibility.
Let's open our hearts, even when we think the other person is over-reacting. Instead of judging, let's weep with those who weep.
Turn weeping into action
If we are sensitive to the hurts of Aboriginal people (or other minority groups), we can begin to express solidarity and show support for their endeavours to build a more equal relationship with non-indigenous people in Australia. This year we did three things:
Change the Heart Prayer Service
Respected Aboriginal Christian leader, Aunty Jean Phillips has been initiating prayer services around Australia for several years. We attended our third this year, at St Andrews Cathedral in Sydney. Here is Aunty Jean and her protege and our friend, Brooke Prentis.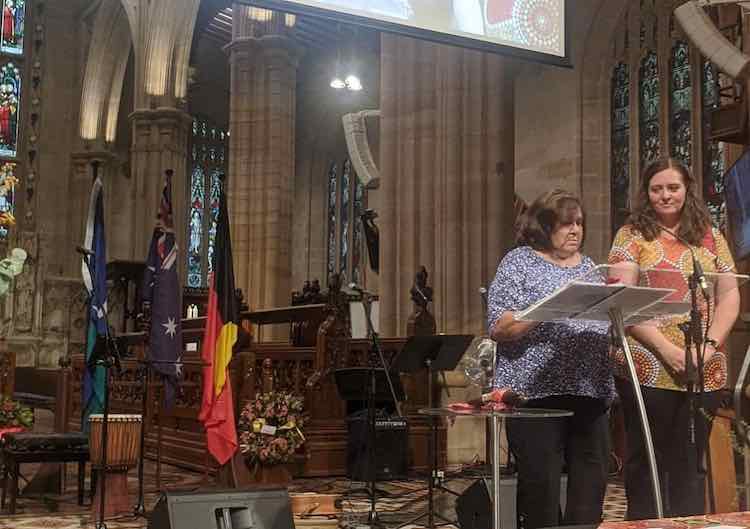 The land I stand on
Christian justice movement, Common Grace, asked supportive christians to show solidarity with Aboriginal people who feel January 26 cannot be a day of unfettered celebration to post a photo of their feet standing on the traditional lands of Aboriginal nations. Here are our feet on the land of the Wallamba people of the Worimi nation, where we are currently holidaying, and we pay our respects to their elders past, present and future.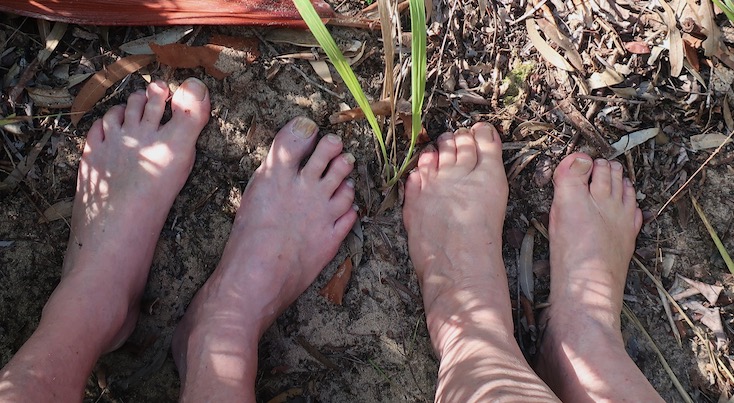 Celebrate ….. something different
Today we attended the Saltwater-Freshwater festival of local aboriginal people in Forster on the NSW mid-north coast, as they brought their communities together to support each other on a difficult day and to celebrate the survival of their culture. Non-indigenous Australians were welcome. And so we watched Aboriginal dances (one of the ways they traditionally passed on lore), listened to some excellent music, enjoyed art and friendship. This was truly a more communal and inclusive event than white Australia Day celebrations we have attended in the past.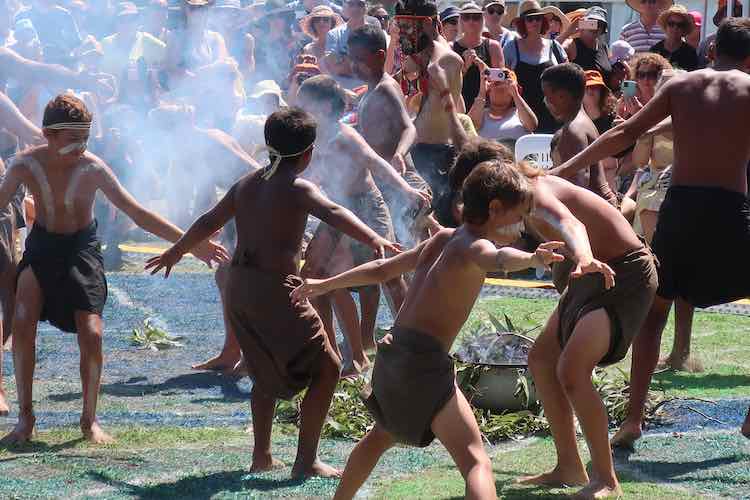 We have been enriched and challenged by these actions, and hope next year many more christians will be moved to show solidarity for indigenous Australians.
Photos:
Top: Aboriginal prisoners in chains at Wyndham prison, 1902. The circumstances of their degrading treatment are not known, nor have I been able to ascertain what nation(s) these men belonged to. I have been unable to find ownership of this photo, but it has been widely used on the internet so I presume it is in the public domain.
Second: Photo by Common Grace.
Bottom two: unkleE.