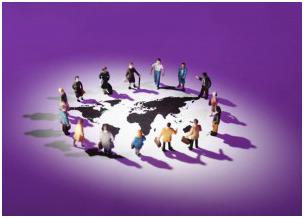 30 years ago, Harrison Owen poured hours and months into preparing an international conference, only to find that the participants got more out of the coffee breaks than the papers and presentations that had taken so much effort to organise. He set about seeking how to harness the energy and excitement that occurs in a good coffee break, and turn it into productive activity and results.
Since then, "Open Space Technology" has been used in thousands of meetings, conferences, and organisations, with anywhere from 5-2000 participants, to solve seemingly unsolvable problems and manage seemingly unmanageable conflict in minimal amounts of time, with no agenda, no key speakers, no planning committee and little or no facilitation.
Open Space Technology rests on two principles – the power of circles, which create an "open space" for equal, open human communication, and the concept of self-organisation. Adults are surprisingly able to organise themselves when given the freedom and structure to do so. When given the opportunity to participate, and contribute, and take responsibility for what they care about, people become productive and collaborative. The only option for leaders is to get out of the way and let the process flow (not always easy for those used to imposing control on others).
I've had a unique and exciting opportunity over the past two weeks – something that has given me great delight and pleasure. A member of our local church asked how we as a Christ-centred community should respond to negative political actions towards asylum seekers (we're coming up to an election in Australia, and the two major parties are trying to out-do each other to win the popular vote by stirring up negative energy around refugees coming by boat). I offered to run some "open space time" instead of the regular sermon, and had the huge privilege of watching the church come alive with energy, creativity, passion and strategies for practical, sustainable action. There was a palpable shift in the way people were interacting with one another, which was particularly noticeable in the deep discussions continuing over morning tea. A newcomer to our church was amazed to experience a "religious gathering" which would allow everyone a voice, even an outsider.
I love my local church. It's made up of ordinary people who are also extraordinary people, with incredible potential, and a heart for Jesus. I loved seeing these people organise themselves, and sit in circles, face-to-face, seeking answers to complex questions together. I loved hearing them give feedback and strategies to the whole community afterwards. I loved that our pastor took the risk of letting us try something new, and letting everybody participate. Most of all, I love knowing that God can work through this group of people when we gather together, to change each other and to change the world.
---
Discussion
In the discussion I asked this question: "This is great! Can you tell us a little more about how you organised the "open space time" please?" This was Kath's answer.
We started by watching "Between the Devil and the Deep Blue Sea" as a congregation. People then wrote questions they wanted to discuss. The questions were read out to the congregation, and everyone got to choose which group they wanted to join. There wasn't time to finish our conversations the first week, so many people asked to continue on in the second week. We got people to write new questions and join new group, and there was a brief time to give feedback at the end.
If you google OST you will find lots of information on how it can be run. It is ideal for complicated issues that need to be solved "yesterday". By providing a minimal framework, people are able to self-organise and achieve their desired outcomes. The "law of 2 feet" ensures that everyone takes responsibility for what they care about.
---
This page, originally posted on August 6, 2013, is recovered from the now defunct Church in a Circle blog, and re-published by permission, because I think the material is valuable.
Related Posts